There are a lot of jokes online about Armie Hammer and cannibalism, based on Instagram DMs that are allegedly between Hammer and various women he had a sexual relationship with.
Trigger warning: these DMs explore some pretty intense fantasies, including extreme violence, mutilation, and, yes, cannibalism. Most of them have been compiled by Instagram account @houseofeffie.
Cannibalism is a pretty eye-catching topic so that's what most people focus on.
That includes actress (and Instagram/OnlyFans star) Bella Thorne:
This weekend, Bella decided to share her opinion about Armie Hammer's alleged DMs and other rumors in her stories.
"I honestly can't believe this…," she wrote, sharing a post about Hammer from Variety. "People are crazy to fake this kinda sh_t this poor guy and his kids like leave him and his family alone. No way he's a freaking CANNIBAL….Also there's a million fake screenshots going around."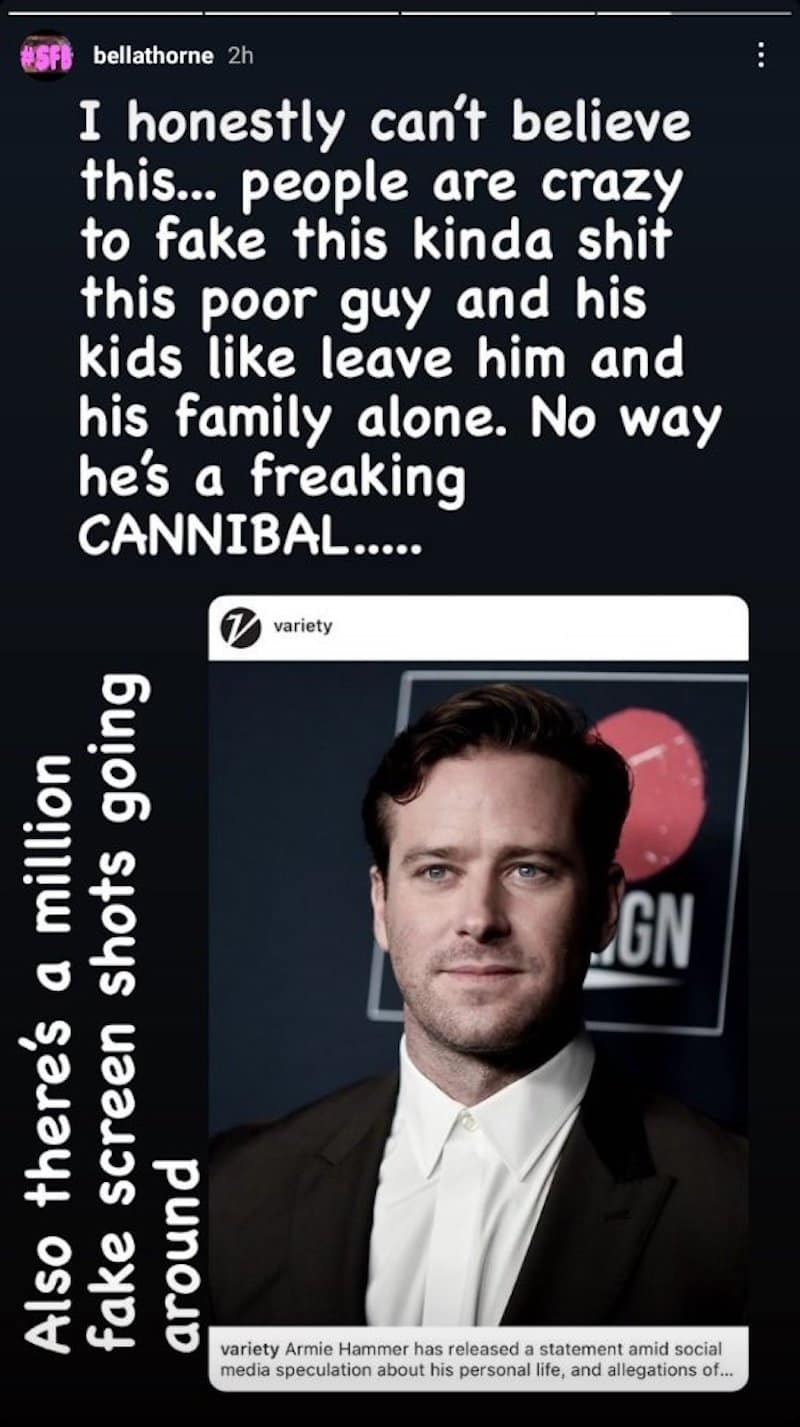 No one is sure why Thorne weighed in on the subject. The Variety post includes a statement from Hammer saying he wouldn't respond to the accusations and that he was stepping down from a role opposite Jennifer Lopez in the movie Shot Gun, which was supposed to start filming pretty much now. Perhaps there's nothing worse to an actor than the thought of losing out on a role.
But the stories about abuse and violent acts have been confirmed by various women who Hammer has dated since separating from his wife last summer. While the DMs are extreme, if they existed solely as fantasy sex talk, it really wouldn't be anybody's business.
The other accusations are more serious, which people were quick to point out on Twitter:
I swear there is nothing worse than a woman invalidating victims

— romi (@deadpoetssciety) January 14, 2021
Also fuck Bella Thorne for believing Armie and supporting him. If she's an ally to women and survivors of abuse like she claims to be, she'd at least give them a chance to share their story before dismissing as "fake dms". No one dismissed her when she shared her childhood trauma

— vulpes (@vulpeculasum) January 16, 2021
HERE'S SOMETHING NOBODY ASKED FOR: Bella Thorne defends Armie Hammer who is facing allegations of abusing ex girlfriends as well as allegedly being a cannibal. Bella said "I honestly can't believe this… people are crazy to fake this kind of sh*t." pic.twitter.com/y8QSmUGQti

— Def Noodles (@defnoodles) January 16, 2021
no one asked bella pic.twitter.com/HoUXnBrzrE

— yumi (@evqnmock) January 14, 2021
Bella Thorne isn't the most popular person online these days after messing up adult content platform OnlyFans for everyone who isn't her. It seems like her new venture as a sexual assault defender isn't going so great either.
More links you may or may not like: