This week, OnlyFans announced that Bella Thorne broke records by making over $1 million in 24 hours after her debut on the platform, which is traditional use by adult performers sharing their own content. Generally speaking, that content is erotic and involves nudity, but Thorne was quite explicit about saying she'd do no nudes. Just the same, her revenue has supposedly increased to $2 million.
While Thorne isn't the only celebrity on OF, her appearance has caused quite a bit of pushback. As a celeb, Thorne has quite a bit of influence in a way a more ordinary OnlyFans poster does not. Sex workers who have used OF as a big part of their income are saying that Thorne's presence is really messing with their money.
One allegation is that she falsely advertised the sale of a nude for $200 and complaints led to a cap on what could be charged for these pay-per-view messages. That's a serious problem for the many people who make extra money on OF with their PPV messages:
anyways yeah, fuck you, bella thorne. pic.twitter.com/dKjxUMUWR0

— Kira Noir Inc. (@thekiranoir) August 28, 2020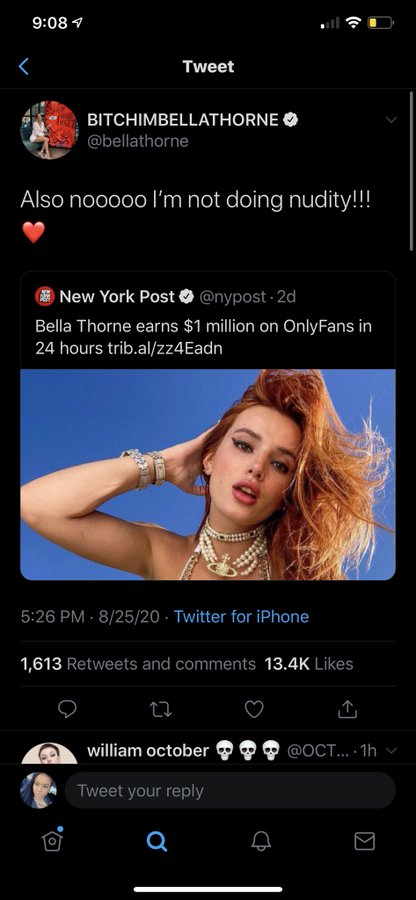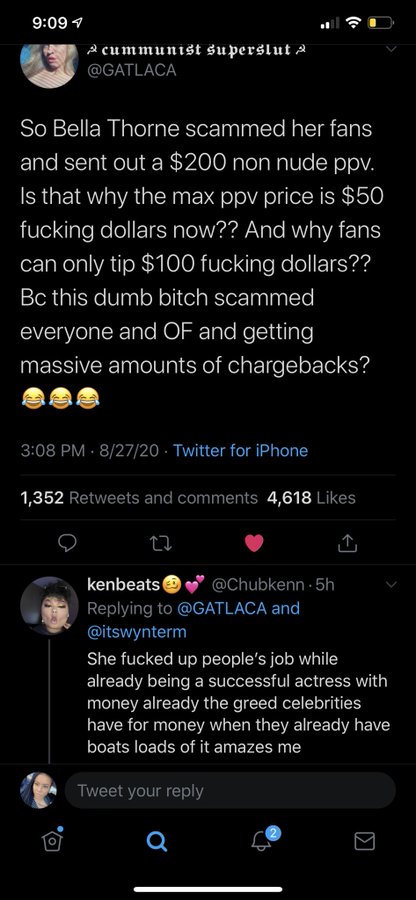 she scammed people with a $200 ppv and people are demanding charge backs, so now you can only charge $50 max for ppv messages, and tipping has been limited to $100

— saira rose ★ (@sairaspooks) August 27, 2020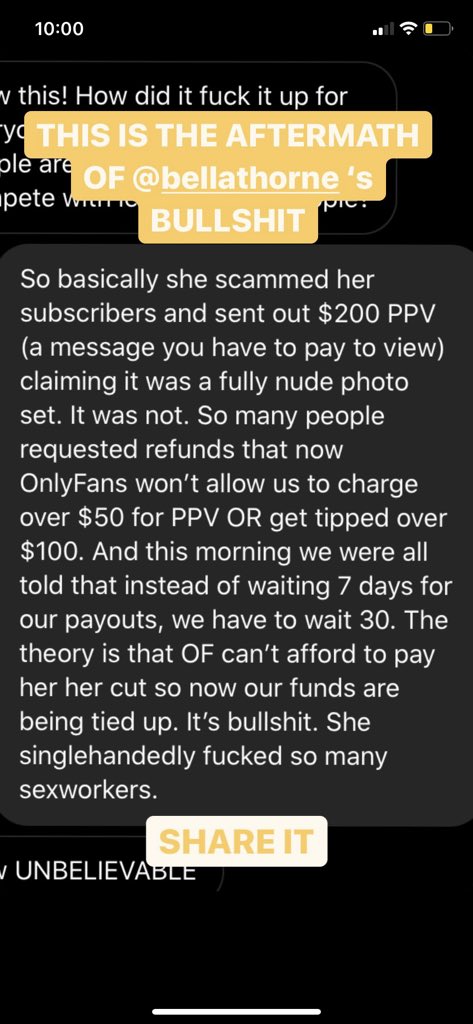 Instead of directly addressing Thorne and the way she is abusing the platform, now all content creators who rely on that money are being targeted:
Due to Bella Thorne scamming her fans in a $200 PPV message onlyfans has now introduced these changes to all creators rather than restricting her account:

30 day payout
$100 max tip
$50 max post price

Why we can't have nice things.

— Frailu (@Frailu_) August 27, 2020
Onlyfans girls waking up today to find out they ain't getting paid till October cuz of Bella Thorne pic.twitter.com/kgJZ10HUbe

— Gamerstyle (@Gamerstyle808) August 28, 2020
1. Bella Thorne is trash for scamming and ruining OnlyFans
2. OnlyFans is trash for changing policies for everyone instead of banning her
3. Her subscribers are stupid and y'all should have just subscribed to actual sex workers and you wouldn't get scammed

— Erika Onlyfans Hoedewald (@erikaheidewald) August 28, 2020
she has no excuse not to redistribute that money. she doesn't need it. there are people whose livelihoods depend on this stupid website (transferring subscribers is rlly hard)

if payouts take 30 days now there's no way i'm going to be able to make some bills on time lol fuck

— molly wants a Bigass Sword (@DoSomeMolly) August 28, 2020
nah it's really fuck bella thorne for fucking shit up for onlyfans creators wtf

— Ivyprofen 💊✨ (@IvyKungu) August 28, 2020
I finally got caught up on Bella Thorne/ Only Fans, and a white Disney star and still *working* actress fucking up a platform that allowed sex workers to earn safely and with autonomy is basically THE snapshot of WW coopting spaces for the marginalized in the name of empowerment

— Naima Cochrane (@naima) August 28, 2020
And people are especially mad because it doesn't seem like Thorne joined OnlyFans because she was desperate for the money. She told the LA Times that she joined for "research" for a film she's making with director Sean Baker.
"It's a feature we are researching as I'm living it currently," she shared. "What are the ins and outs? What does a platform like this do to its users? What's the connective material between your life and your life inside the world of OnlyFans? How can it change your life for the worse and the better? How far are you willing to go, and how far do you WANT to go?,…You can be me, or this talented girl from Montana, and OnlyFans could change your life — if you want it to, of course."
Well, she's certainly changed a lot of people's lives for the worse and this is really baking everyone's beans:
bella thorne fucked over thousands of sex workers whose primary income is onlyfans to research for a movie she's making about what the platform "does to its users" and ended up ruining the platform??? ok daniel day lewis pack it up 🙄

— helen (@helen) August 28, 2020
Bella Thorne;
– Hopped on OnlyFans with no intent on taking it seriously
– Made 2 milli in 48 hours
– Scammed her fans
– Ruined the platform for other creators
– Cause OF to cap pricing
– Financially impacted other creators
– Exploited the platform to make a movie… pic.twitter.com/VfyaeQt3hq

— MillennialLondoner (Claire) (@MillennialLDNer) August 28, 2020
so let me get this straight. bella thorne "researched" swers by permanently damaging their source of income? all while scamming people and contributing to the unhealthy ideas society has about sex work and onlyfans? pic.twitter.com/4jDvzGdV4I

— mr.bitches (@jadedjustin___) August 28, 2020
here's my piece: bella thorne could have easily made a movie or documentary or whatever the fuck she's trying to do about literally anyone other than herself, to achieve the same goal that she thought she could achieve by fucking up the entire OF dynamic and scamming people

— matt (@lindsaydemeola) August 28, 2020
Thorne has claimed that she plans to give the money to charity after giving some to her own production company. She should first invest in reparations and campaigning to have the new OnlyFans limitations reversed as she steps down from the platform. Then hire some real sex workers to be in and write on her movie. That would be hot.
More OnlyFans: