Grimes announced her pregnancy earlier this year and the baby is the result of a relationship with permanently stoned billionaire Elon Musk. The announcement was dramatic and instantly deleted from Instagram because it showed a little nip. She reuploaded everything to Twitter, for our convenience:
🪐🗡_ pic.twitter.com/3WXN1H22Mz

— ꧁ ༒ Gℜiꪔ⃕es ༒꧂ 🍓🐉🎀 小仙女 (@Grimezsz) January 8, 2020

Musk really kicked off Meltdown May with a surge of hot lava crazy on Twitter, but maybe it was just impending fatherhood. On Tuesday, he shared a picture of his newborn and allowed his followers to drag details out of him.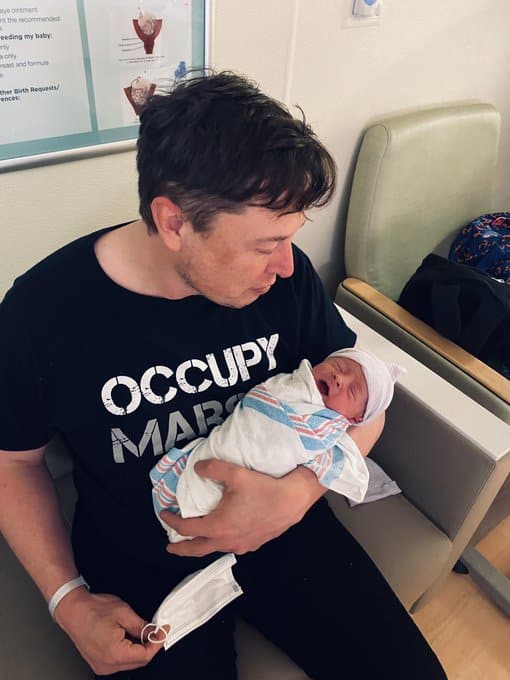 For example, the baby is a boy. It also has a name I can't pronounce—X Æ A-12 Musk— but which looks like an anime character.
Mom & baby all good

— Elon Musk (@elonmusk) May 5, 2020
X Æ A-12 Musk

— Elon Musk (@elonmusk) May 5, 2020
— Elon Musk (@elonmusk) May 5, 2020
Boy

— Elon Musk (@elonmusk) May 5, 2020

He's also already having fun with filters, turning little Jumble of Symbols into a tiny Post Malone:
— Elon Musk (@elonmusk) May 5, 2020

Some people are trying to unravel the mystery of the baby's name, but it's honestly only making me more confused:
Chi Ash Archangel

— K10✨©️ (@Kristennetten) May 5, 2020
Coincidence? A-12 first supersonic flight was on May 4. pic.twitter.com/17w5YNuYqg

— AJ 🧢#YangGang #StayHome (@KeepAustinAJ) May 5, 2020
More likely. SR-71 also used in some X-Men. Wonder if X means order of magnitude not Chi 🤔

— Akira (@seldon_raven) May 5, 2020
We all better learn it though, since he'll be the overlord war king of Mars someday. The rest of the Internet who are not in Elon's mentions is still mentioning him. There have been some pretty funny reactions to the birth of the one foretold.
the first 15 seconds of little dark age is what elon musk and grimes should name the baby

— ♡M̶a̶r̶k̶♡ / nsfr (@MurderScenery) April 26, 2020
Breaking News: Grimes and Elon Musk welcome their first baby!

Reporter: So whats it's name?

Grimes:
pic.twitter.com/Fp4DjT4299

— it's mikey, baby! (@Mikey_Sul) May 5, 2020
Grimes and Elon Musk's baby probably looks like this pic.twitter.com/imIqPxuUgK

— Nick (aka ape) (@poolboy4RENT) May 5, 2020
This is how Grimes and Elon's baby cries. pic.twitter.com/ZESvtfmmHF

— Chihiro la foranea 🐉 (@AleElvira) May 5, 2020
ELON MUSK: *accidentally drops a drawer full of silverware*

GRIMES: [hearing the sound it makes] Thats the perfect baby name

— Extreme Good Person (@SortaBad) April 30, 2020
"Elon Musk and singer Grimes have named their baby boy X Æ A-12"

It's 7:13am and I already can't with this day.

— Jarett Wieselman (@JarettSays) May 5, 2020
The Grimes and Elon Musk baby has been born pic.twitter.com/coDrnM94zq

— Anyways stream "In Birdsong" (@mykzurgf) May 5, 2020
Grimes and Elon Musk just welcomed their baby into the world !

the baby in question: pic.twitter.com/l3C7N9m4zr

— zachi xcx (@Z_ninetales) May 5, 2020
How I listen to Grimes now knowing she had a baby with Elon Musk and named it X Æ A-12 pic.twitter.com/1v35Obj7Od

— friendly pokemon that craves stability (@thequeenofmemes) May 5, 2020
The Grimes baby when Elon Musk does "got your nose!" pic.twitter.com/vdh72ra6RO

— Chadley Walsh (@crumlingothic_) May 5, 2020
Grimes: "the baby's crying go feed him"

Elon: "I can't hear anything are you sure?"

X Æ A-12:pic.twitter.com/6Z7dFpp2me

— damo (@mfdamo) May 5, 2020
trying to figure out how to pronounce the name of grimes and elon musks baby pic.twitter.com/J5EkzfcrhY

— cecily (@2cecily2furious) May 5, 2020
grimes and elon musk when the baby writes latin curses all over the walls pic.twitter.com/WGgkeEjwAx

— rat goblin (@rat_goblin) May 5, 2020
WARNING: We have run out of X Æ A-12 license plates in the gift shop. pic.twitter.com/3p29qCCAMP

— The Ham Toucher (@HamToucher) May 5, 2020
X Æ A-12 playing with his classmates at school pic.twitter.com/VeNGOQDizv

— Manila Clams (@ab609x) May 5, 2020
X Æ A-12 first words when he starts to speak in javascript pic.twitter.com/QDPYekHfjI

— Shady X Æ A-12 Facts (@milkz) May 5, 2020
"We're naming him X Æ A-12…" pic.twitter.com/7GMBGbS0Jc

— ✨ Mallorie Jessica Udischas✨ (@SweetBeans99) May 5, 2020
No I think it should be spelled like this – X̶̯̩̗̜̳̭͇͔͈̦͍̻̟̰͚̯̜̠̦̃͛̉̋̀̔̓͑̂̆̀̎̂̚̕ͅ ̶̞̱͚̹̩̙̙͕͎̰̬͖̒͗̇̽̅̃͗̇̍̏͐̈͌̐̈́̒̂͑̒͜͠͝Æ̵͕̻̪͕̀̽͑̈́̉͘A̷̡̬̲̩̞̓̿̊̊̾͂́̈͊͆̐̈́̒̐̇̊̿-̶̮͎̥͇͚̟̣̰͎̜͇̼̖͎̖͕̀̍̌̾͊̉̓͐̐̌ͅ1̸̢̥̰̥̬̝̘̬̲̰̳̤̉̿̓̾͊̈́͠ͅͅ2̵̧̢̛̞̳͚̩̰̬͍̱͉͓̻̓̌̀̈́̒̈́̈́̄̄͒͆͛͗̕͜͝͝ ̵͔̝̩̰͎̜͈̥̝̝̘̟͎͔͔̯̂̃̍̆̽̊͗̓́̑͛̍͆̅̊͘͠

— Hrithik Mishra (@Hrithik58085702) May 5, 2020
This is Elon's sixth child, according to Insider, though his first with Grimes. They're all boys. Quite a little army of technocrats he's growing.
More jokes from May 2020: