Congratulations to Mr. Hugh Jackman on his Emmy nomination for lead actor in a limited series/movie.He played a school superintendent in HBO's Bad Education, and this is his fifth Emmy nomination. Way to go, my dude. His last win was in 2005 for hosting the Tony Awards—actually, that's his only win so far. But I really think 2020 is Jackman's year, because it's literally no one else's. Through the process of elimination, it must be the guy who played Wolverine.
Hugh Jackman can't do anything without receiving comments from his best buddy and worst enemy Ryan Reynolds.
The two have cultivated a very public back-and-forth for years ever since they became friends on the set of Wolverine: Origins when Reynolds played a proto-Deadpool character who he'd probably like to forget.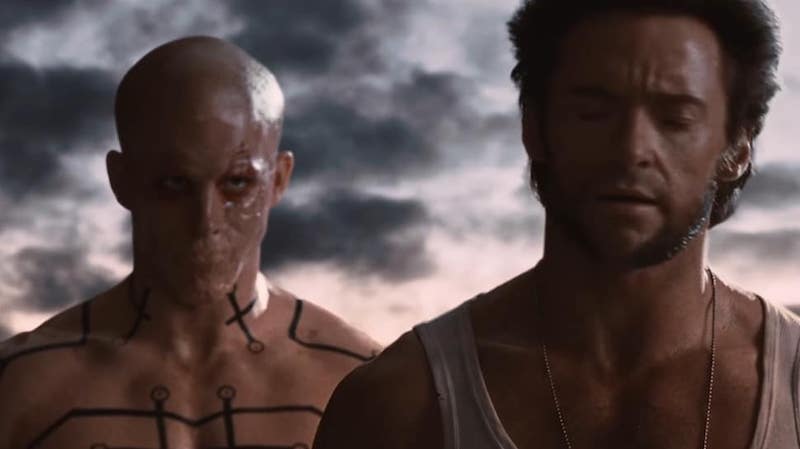 To continue their friend feud and congratulate him, Reynolds sent Jackman a funny video which Jackman in turn shared on Twitter, captioning it, "Careful @VancityReynolds... you're looking a bit green. (Thank you @TelevisionAcad for making this moment possible!). #EmmyNominations #BadEducation."
In the video, Reynolds talks right to the camera to say, "Buudddyy congratulations! Heard you got an Emmy nomination, that's just crazy. That's crazy. Not cause you don't deserve it," but then he looks away, pondering, and adds, "Well…"
Careful @VancityReynolds … you're looking a bit green. (Thank you @TelevisionAcad for making this moment possible!). #EmmyNominations #BadEducation pic.twitter.com/zDBIMuDt4L

— Hugh Jackman (@RealHughJackman) July 28, 2020
Extra's Nate Burleson interviewed Jackman about his exciting news, and of course, question him about Reynolds' reaction.
"Oh, yeah, I predict three days in bed," Jackman joked, implying Reynolds will be prostrate with jealousy. "Actually, I think Blake will be happy with that. He's a lot. Can you imagine quarantine with Ryan?"
Yes, I can, and it does involve three days in bed…
When Jackman was asked what he thought of Reynolds' message, he looked to the camera and said, "He's an actor. Ask yourself: 'When he did this nice thing, did he get a lot of attention for it? Were there a lot of headlines?' Just musing…"
And you're the one who shared it on Twitter? Admit you're in cahoots, already! Drink some Aviation Gin and rake in that paycheck.
I am curious what the Emmys will be like this year. Jackman promised that "from the waist up" he'll be getting fancy, but there won't be any red carpet demanding things like pants. A little sad, but Jackman seems cools with it.
"There are really important things going on, so we're just gonna be safe, put everything in perspective," Jackman said, probably thinking about how he should really call his buddy Ryan Reynolds up and make peace.
More Hugh Jackman and Ryan Reynolds: