Keanu Reeves may be one of the most beloved celebrity men who have last in the industry for multiple decades. He's sweet to fans, makes fun of himself, donates to charity, and is dating a woman much closer to age-appropriate than what usually comes out of Hollywood. He's also starred in some huge fan favorites, like The Matrix and John Wick series, plus at least one Nancy Meyers romantic comedy. He's got something for everyone.
That probably why he gets memed so much, starting with the Sad Keanu meme that tried to make the actor seem like a very abject and sad dude. On a more positive note, there's the "Keanu is immortal" meme, which even has a website dedicated to "proof" that he is some sort of eternal vampire-like figure. Sort of like Pharrell but without the hats. It features a number of pictures and paintings that allegedly show Keanu reappearing throughout time.
That meme has a Photoshop iteration as well, in which pics of Keanu are put into historical images. And now, one of those images are a part of history, or at least a Ukrainian history textbook that was photographed by Twitter user @jigsawdeaad:
аааааааааа в украинский учебник по всемирной истории случайно засунули фотожабу с киану ривзом ахахахахахахахх pic.twitter.com/cI9cPja59A

— тремба (@jigsawdeaad) February 3, 2020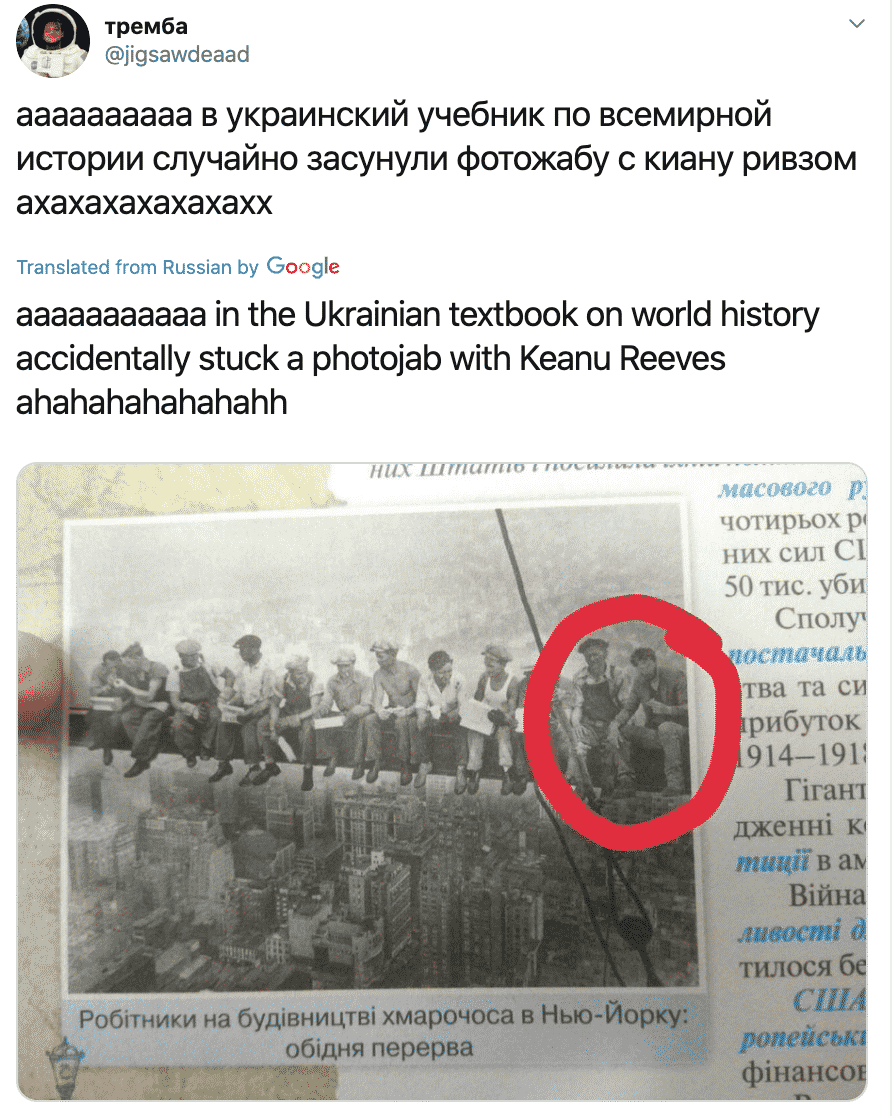 The picture shows Keanu sitting up on a beam in the Empire State Building during its 1930s construction, enjoying lunch with his construction colleagues.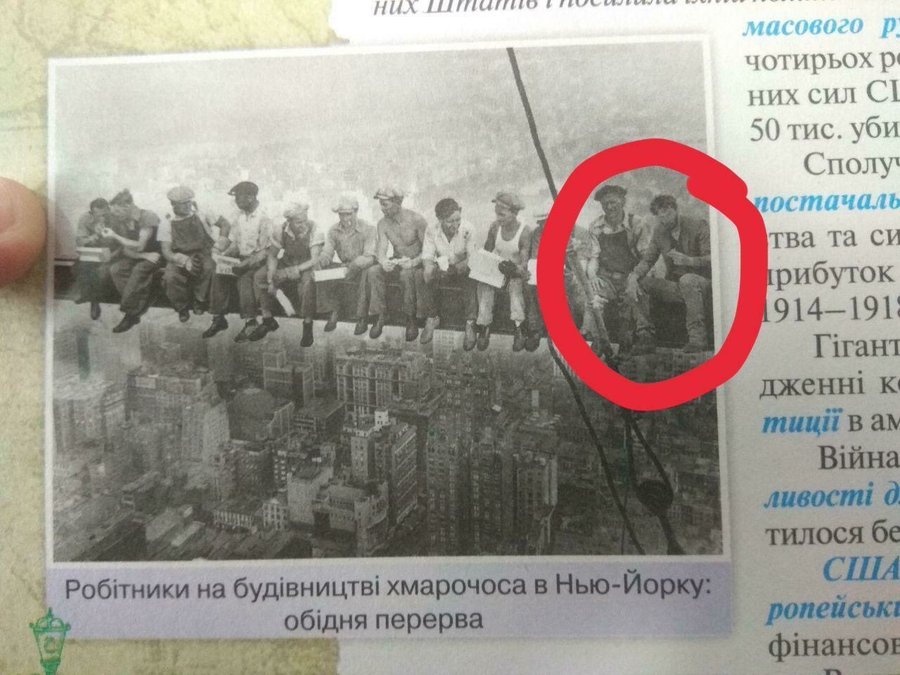 In case it needs to be said, he wasn't actually there.
According to the BBC, the textbook was created by a historian name Igor Schupak, who posted an explanation for the mix up on Facebook. He claims the picture was selected by accident by the book's designer, but when he noticed, he decided to leave it in. He wanted to amuse us all, and it worked:
Keanu Reeves, in the form of the Sad Keanu meme, has shown up in a Ukrainian history text book – as a 1930s construction worker in New York. https://t.co/nt4Sb87gHr

— Tom Parfitt (@parfitt_tom) February 4, 2020
Bshfbdjdnb Keanu reeves in the Ukrainian history textbook 😂 https://t.co/AUxeTaFPCi

— reuwu (@rewoiuy1) February 4, 2020
So Keanu Reeves is indeed a time traveler! And a Ukrainian World history textbook proves it. pic.twitter.com/itcM9ooAzB

— tetiana chupryna (@TetianaOfficial) February 4, 2020
the Sad Keanu meme has shown up in a Ukrainian history text book as part of the 1930's "Lunch atop a skyscraper" image https://t.co/IqwLCZfe8b

— Dusty (@DustinGiebel) February 7, 2020
History is only improved by having more Keanu in it. Thank you, Ukraine!
More Keanu Reeves: