I don't know about you, but most of us watch Love, Actually at least once per year—usually around Christmas. The movie doesn't surprising anymore — but we love it anyway, and it still breaks our hearts and still gives us the feeeels.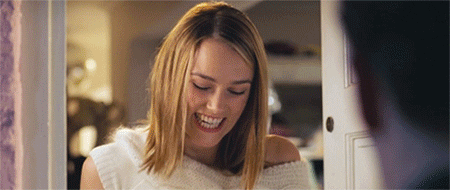 The characters are immortal to us, too—both literally and proverbially. Keira Knightley (Juliet) will always be a lovely (and gorgeous and ADULT) bride whose husband's BFF (super romantic—or creepy?—Mark) is manically in love with her.
And then there's the cute little Sam (played by Thomas Brodie-Sangster), who legit is probably the most adorable kid to have ever been in a film (but also: have you seen him at this movie premiere last night rocking a very grown-up mustache?)
What if we told you that there is only a FIVE-YEAR gap between Sam and Juliet? FIVE. YEARS. A tweet reminding people of this horrifying fact has been making its rounds on Twitter — and people are losing it. Knightley was born in 1985, while Brodie-Sangster was born in 1990.
Yearly reminder that there is only a five year age gap between Thomas Brodie-Sangster and Keira Knightley in Love Actually pic.twitter.com/ciC4v75ZPO

— Madeleine Lloyd-Jones (@madelexne) December 14, 2019
Luckily, someone fact-checked and validated this bonkersness.
It's true!! Holy crap! pic.twitter.com/n2PwkO63km

— Jordan Ross (@TheJordanRoss) December 14, 2019
How could this possibly be? How can Keira Knightly play a fully grown a*s woman, while Thomas Brodie-Sangster plays the tiniest, sweetest little boy?
We know women mature faster than men do (and we know Hollywood hates casting women over the age of 25), but, still. Damn.
He looks 5 and she looks 25

— Maximilian Hardy (@MaxJLHardy) December 15, 2019
*holy gap

— Aafke Terberg (@aafketerberg) December 15, 2019
thomas brodie-sangster has always looked like an infant

— harley | TROS!! (@razzlerocks) December 15, 2019
I love when people discover that Thomas Brodie Sangster is immortal for the first time

— Fran Bollinger (@franb0l) December 15, 2019
Of course, the tweet opened up some pretty interesting conversations about the movie:
Bizarre, but still less befuddling than the fact that it was considered cute that Brodie-Sangster busted through airline security in a movie that specifically references 9/11.

— Libby Berke (@ItSaysLibby) December 15, 2019
I never understood why she & her bf got married in that movie. She was so young. Wasn't pregnant. Didn't appear to be forced into it. Mad.

— emma burns ❄️❄️ (@betaburns) December 15, 2019
It's that time of year where we all have to remember that LOVE ACTUALLY has THREE separate storylines about old men sleeping with women who work for them. #romance pic.twitter.com/yyOwOfTwE0

— Gabriel Bisset-Smith (@GabrielBisset) December 15, 2019
I remember when this was in the cinema and loved it but it really hasn't aged well and now when I look back on it there are so many problematic storylines. Plus also it's just a bit shit.

— Charlie (@Jones_CJ25) December 16, 2019
More funny movie tweets: