In the last few weeks, the entertainment industry has been reckoning with the TV habit of using blackface for comedic effect, because blackface isn't funny. It's just racist. It's been a thing that many Black people have said is racist for a long, long, long time, and yet it keeps happening. It's almost like the white people in charge weren't paying attention!
But after a few months of daily protests around the country over racist police violence, as well as many difficult conversations about racism in every industry, some networks and showrunners are responding by pulling episodes of TV with blackface in them. Yes, multiple episodes.
This week, it's an episode of Golden Girls, Deadline reports. The episode aired in 1988 in the show's third season and centers around the marriage engagement Dorothy's son Michael has with a Black woman who is older than him named Lorraine. Dorothy supposedly disapproves because of the age gap, and Lorraine's family disapproves because they don't want to see her in an interracial relationship.
When her family shows up, Blanche and Rose step out to greet them and happen to be wearing mud masks, which look like blackface.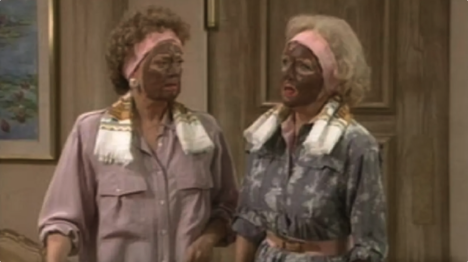 "This is mud on our faces, we're not really Black," Rose tells them.
It's my birthday and all I ask for is that you hysterical lunatics don't cancel The Golden Girls. pic.twitter.com/32snYpfTkU

— Dave Rubin (@RubinReport) June 27, 2020
Is this a joke about blackface? Definitely. Is it actually blackface? The Internet is divided, and not just into racists and non-racists. Some people feel this scene doesn't actually qualify as a racial caricature. Others feel like these surface responses to the demand for racial justice is distracting and irrelevant. Some just think this goes too far:
That Golden Girls episode isn't blackface. What the hell ?

— roxane gay (@rgay) June 28, 2020
everyone: defund the police

mayors: yes we'll rename streets and paint murals

everyone: no we said de—

celebrities: ok we'll stop voicing cartoon characters

everyone: that's not wh—

hulu: fine we'll remove the golden girls episode with mud masks

everyone: what is happening

— every cop contribution is a policy failure (@aaronnarraph) June 28, 2020
I like how they think Black people don't know our Golden Girls.

Dorothy, Rose, Sophia, and Blanche are the least problematic white women in all of television which is fairly impressive considering that show was on air in the goddamn mid-80s https://t.co/jPk8sJlh0w

— Imani Gandy ☄️🌏🔥 (@AngryBlackLady) June 28, 2020
So you're saying take more Golden Girls episodes down? https://t.co/eBbI1kL0lA

— Matthew Yglesias (@mattyglesias) June 29, 2020
Brands removing their problematic episodes feels like a way of equating Black Lives Matter with "cancel culture" to delegitimise the movement and court outrage. I haven't seen one placard in these marches saying "REMOVE EPISODE 323 OF THE GOLDEN GIRLS FROM HULU"

— Hamish Steele (@hamishsteele) June 28, 2020
They pulled an episode of the 'Golden Girls' from streaming because they wore blackface in it. Fuck each and every one of those old arthritic old bitches. And the people that wrote the episode.

— Karlous Miller (@KarlousM) June 28, 2020
Yeah, these companies and media platforms are trivializing the situation by sending the message that our demand for justice is as petty as removing episodes of the Golden Girls off a streaming platform. This is a calculated effort to cheapen our message. https://t.co/iAr5oVazkT

— raevin (@raeviin) June 28, 2020
omg. okay, THEY WERE NOT EVEN IN BLACKFACE IN THAT EPISODE. i don't even need to read it to know which one they're talking about. Dorothy and the girls found out her son, Michael, was marrying a black woman. Blanche and Rose were wearing mud masks, PLEASE. #GoldenGirls

LIKE PLS https://t.co/dSAJ5N7yn7

— 😷Kᥱᥣιᥲh Sᥲιd Oᥒᥣყ Rᥱρᥣყ Wιth WASHED Hᥲᥒds😷 (@RealKDPFan4Eva) June 28, 2020
BLACK COMMUNITY: Please don't let the police kill us

WHITE PEOPLE: Got it. Cancel Golden Girls. https://t.co/gvfQAckSQB

— Poli Sci Bitches (@poliscibitches) June 28, 2020
I just think it's funny that the creators of the Golden Girls had more sense in the 80s than Tina Fey had in the 2010s

— Imani Gandy ☄️🌏🔥 (@AngryBlackLady) June 28, 2020
First of all, they were in mud masks not blackface. And second of all, in what world does "Stop killing us." sound like "Please remove episodes of Golden Girls"? I didn't see that ask on anyone's protest sign… https://t.co/cgEcGdD60o

— erica williams simon (@missewill) June 28, 2020
Whoever removed it either didn't even watch it or is just not a smart person, which is as generous as I can be

— Ira Madison III (@ira) June 29, 2020

Golden Girls joins more modern programs like Community, 30 Rock, and The Office in deleting episodes or scenes that include blackface. 30 Rock featured four episodes using the racist trope and was made 30 years later.
More TV tweets: