There are a lot of original ways to ask someone to marry you. One a hot air balloon. Via telegram. Maybe with skywriting or a scavenger hunt. But have you considered doing it with breakfast foods? One sweet, simple couple seems to have committed to one another via their preferred morning ritual—a giant pancake breakfast, with eggs and sausage engagement ring on the side.
In pictures captured by the DailyMail, we can see a syrupy message. Both literally and figuratively, because there's nothing more saccharine than a marriage proposal in maple syrup.
"Sooo. This happened! Did I say 'yes'?! Of course I did. The best part? That's his great grandmother's ring. Happy birthday to me," the DailyMail claims the bride wrote in a post on Facebook. Ring? What ring…oh my god.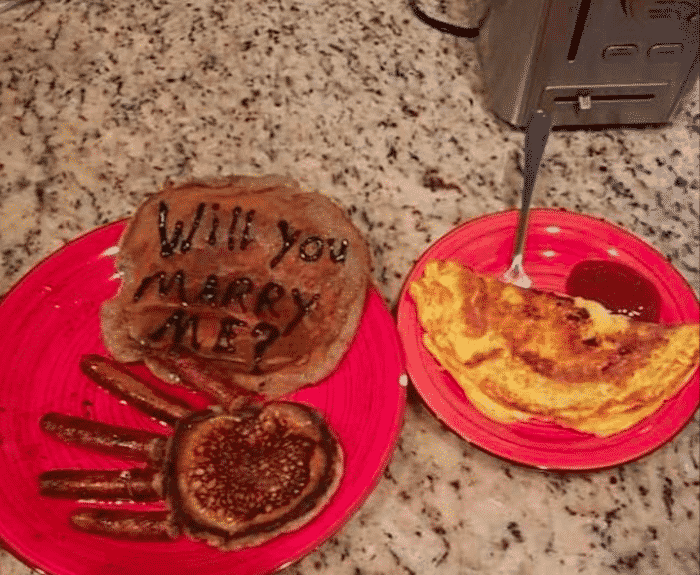 Okay, what is on that sausage hand?
Enhance: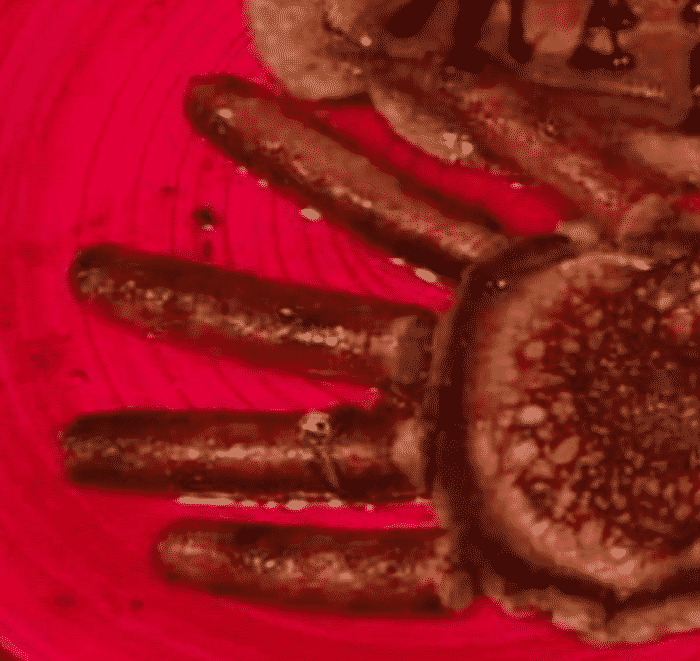 Yep, that's an engagement ring on a sausage finger. Honestly, I think that's hilarious, but supposedly the woman's earnest post was met by criticism and derision from her friends and followers.
Or maybe these offensives quotes are all from people who came across her story and don't know her at all. Or maybe the DailyMail completely fabricated this whole thing because they were having a slow news day. But here are some of the comments they claimed were made under the picture:
"I didn't even see the ring at first and then, there it was, circling a greasy sausage. Grandma would've been thrilled to know she passed down an heirloom ring that would one day be featured in fatty breakfast foods."
"I'm all for unique proposals but I hate when they include food and drinks. I told my husband when he was proposing he could do anything as long as he doesn't put it inside anything like that."
"I didn't think it was that bad until I looked at the second photo. Looks like a cadaver hand. Also I couldn't marry someone who eats their eggs that well done."
"Nothing says 'Marry Me' like insinuating your bride has sausage fingers."
"Creative, yes! Creepy AF, YES. This picture gives off serial killer vibes."
At least one person defended their engagement story, writing, "While hilarious… This is really wholesome and sweet. I can't be mad. We need more of that right now. I would however like to see how the wedding plays out."
If these people are real, I hope they don't invite any of the critics to the wedding. Negative Nancys ruin a breakfast buffet.
More engagement ring disasters: