Starting May 4th, wholesale chain Costco rolled out a new policy requiring shoppers to wear masks, as a preventative measure against COVID-19, Business Insider reports. There's no vaccine, no cure, and over 70,000 people have died. Face masks seem like the bare minimum.
But a lot of Costco shoppers disagree because they think that getting a virus that puts them on a ventilator is their right as an American, as is spreading that same virus to other people.
Adios #Costco! Won't be renewing my membership!

I REFUSE to mask up for the low IQ mob that's falling for the propaganda, not to mention the health risks by restricting oxygen! 🙅🏻‍♀️ 😷

Costco's nationwide mask requirement violates the Americans with Disabilities Act (ADA) pic.twitter.com/MIuzjeSoUK

— Talia (@talialikeitis) April 28, 2020
On the company's website, Costco CEO Craig Jelinek shared a message to the people who have a problem with personal safety:
"We know some members may find this inconvenient or objectionable, but under the circumstances we believe the added safety is worth any inconvenience," Jelinek wrote. "This is not simply a matter of personal choice; a face covering protects not just the wearer, but others too."
A very measured response in the face of rabid ignorance. That might be why this Facebook exchange circulating on Reddit is so funny.
The screenshot shared by MisterT12 shows a comment on a Costco page (or possibly a fake Costco page), that reads, "I will not shop at Costco until you remove your mandatory mask rule!" She even fancies it up with a lovely leaf pattern.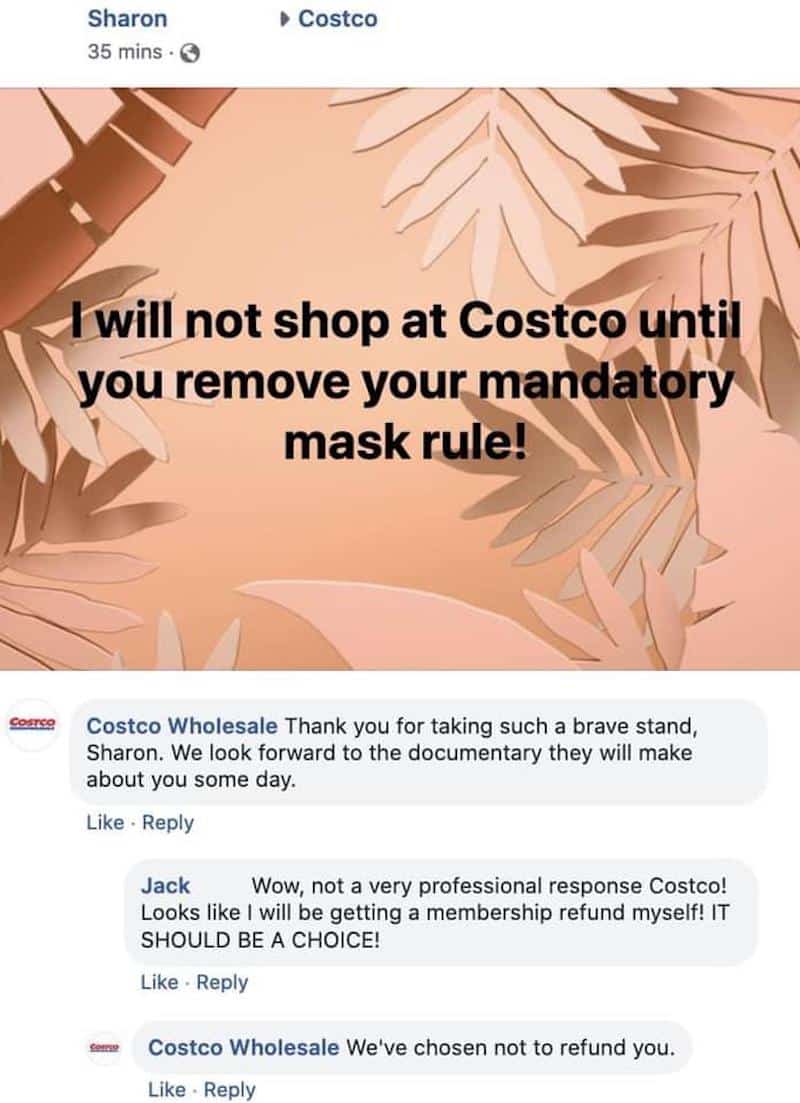 Below Sharon's comment, someone using the name "Costco Wholesale" responded to her worries, commenting, "Thank you for taking such a brave stand, Sharon. We look forward to the documentary they will make about you someday."
Posing as a brand or celebrity and responding to people online is an old trick. It also still absolutely works because the kind of people who refuse to wear masks to protect themselves and others might also be the most gullible and media illiterate people alive.
A guy named Jack responded to the catfish, certain it was really Costco. "Wow! Not a very professional response Costco! Looks like I will be getting a membership refund myself! IT SHOULD BE A CHOICE!" he writes.
"We've chosen not to refund you," Costco Wholesale told him.
Do pranks like this resolve anything? No, but they are briefly amusing. And if you do need some good news, a much larger number of people seem to support Costco's decision:
Going to shop at Costco today because I feel safer there due to their mask policy. #supportCostco

— it's just me (@msmary128) May 8, 2020
Businesses protecting their employees and other customers by requiring all shoppers to wear a mask isn't infringing your rights; it's being responsible during a pandemic. #supportCostco

— Just Erin 🦄 (@ErinBode) May 8, 2020
Thank you #Costco for requiring masks. I usually go to Costco 3x's a week but haven't been since March 13 because it hasn't been safe. Too many people with no masks. I will go again now that everyone has a mask on. Thank you for thinking of members safety #supportCostco

— Glen Roberts (@bigskippy123) May 8, 2020
I've never had a #Costco membership but just to show I #supportCostco in their "must wear masks to shop" policy I am going to purchase a membership this weekend. pic.twitter.com/CMVgwG9AVg

— MillyMac #MayDay 🌎🤟🏼🕊💟✌️✊🏼🌹✊🏿 (@GenXer4Progress) May 8, 2020

And remember: check that a company is verified before believing anything they say on social media.
More customer service trolls: