There are many arguments raging on Twitter. Some are tearing communities apart. Friends, families, all are bitterly fighting over all manner of things. Yet, the most divisive argument of the week is all about animals.
Twitter user Dan Nolan shared a meme that has circulated for some time, writing, "I've been driven insane by this," inviting everyone else to go absolutely insane too.
The meme shows nine panels featuring animals with a number: 50 eagles, ten alligators, three bears, seven bulls, a single man with a gun, 15 wolves, 10,000 rats, five gorillas, and four lions. Below, it reads, "Pick two. They will defend you. the rest are coming to kill you."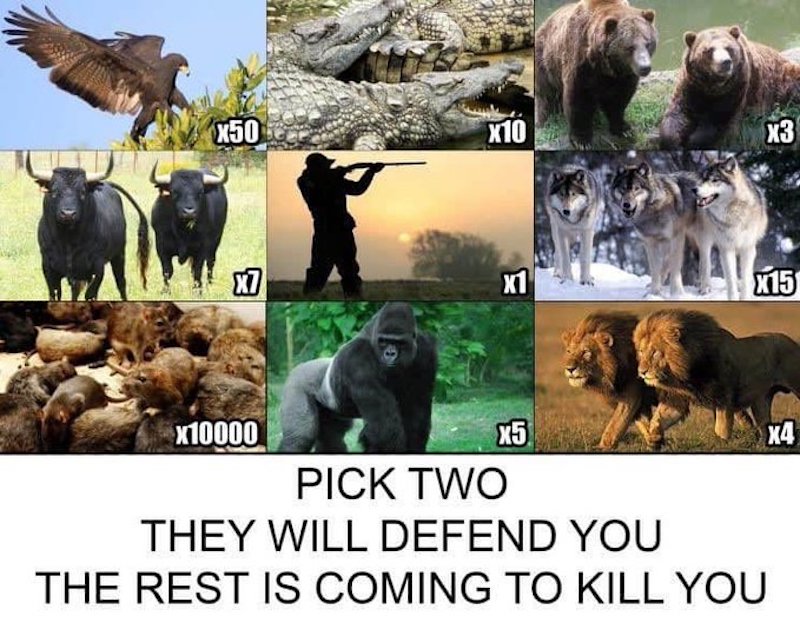 The debate quickly got ugly. Maybe it's because everything else we've been arguing about seems too serious to fight over amongst your mutuals, but people really let loose with their animal opinions. People were willing to bet their lives on their ideas about which animals would be the best defense against all the other animals —as indeed you would be. It is a matter of life and death:
The True Gamer has arrived

— Josh Sawyer (@jesawyer) July 25, 2020
Anyone not picking the rats is a fucken idiot. Honestly, the only two choices are rats + eagles (so you're not fending off eagle talons from above) and rats + human (because you're not bulletproof).

— Jason Heeris & 1247 others (@detly) July 25, 2020
feel like people really underestimate just how many rats 10,000 is https://t.co/jVg7lvlnOy

— chris (@icedoutomnitrix) July 25, 2020
how you gonna stop the eagles though? Unless gun guy is on full-auto he's gonna get his eyes picked out. I think you have to take rats and eagles simply bc no other combination can protect you from either of those.

— utterlyjace (@utterlyjace) July 24, 2020
eagles and wolves is the only correct answer. all the rat people are DELUSIONAL https://t.co/R1A5iZFEUy

— Lindsay Dodgson (@linzasaur) July 24, 2020
If I'mma die anyway, I might as well go out alongside 15 wolves and 4 lions like a warrior goddess. https://t.co/mJVmQRsWpR

— Blackest Widow (@sovivACEous) July 25, 2020
It's a Kobayashi Maru. You have to pick the guy or he just shoots you, and two people can't defeat that many rats no matter what. So even with the rats and the shotgun guy, you can't even stop all the bulls (let alone the rest). I would choose to die with the wolves and lions.

— Socially Distant Cousin (@OchamsRazr) July 24, 2020
There was also a lot of frustration over the missing aspects of the meme. For instance, what is the terrain? Are we judging based on efficiency? Strength? Numbers? The analysis got in-depth and intense:
I need more information about the battlefield. Can I choose it? If so I'm sticking with my current team and the showdown will be in an estuary or flooded delta. If it's a jungle, alpine, urban or savannah environment I may choose a different squad.

— Matt Bevan 🎙 (@MatthewBevan) July 24, 2020
If they've been affected by green toxic ooze even better. Imagine 10,000 Master Splinters on the rampage? pic.twitter.com/2UzpKLvkj7

— Griffin & Chapman (@TeeCeeMG) July 25, 2020
If they've been affected by green toxic ooze even better. Imagine 10,000 Master Splinters on the rampage? pic.twitter.com/2UzpKLvkj7

— Griffin & Chapman (@TeeCeeMG) July 25, 2020
My man made a damn graph

— Ansel Lundberg | Yes on Prop 15 (@ansellundberg) July 25, 2020
there is no choice other than rats and hawks pic.twitter.com/k1ErUA4PYb

— Wℹ️ll (@WillWells95) July 25, 2020
I've been won over to the idea that picking anything that isn't ten thousand rats on a war footing would be idiotic

— henno (@jrhennessy) July 24, 2020
It's truly a difficult choice and ultimately comes down to what kind of general you are. Do you fight to defend? Or fight to go out in a blaze of glory? Answer that first, and you'll know who stands by your side (it's 10,000 rats and a guy with a gun, obviously).
More of the best 2020 memes: