It's hard to trust a company's advertising ploys—after all, they have a pretty vested interest in making you believe their product is worth your hard-earned cash.
Savvy shoppers trust a good consumer review first and foremost. And there's one Amazon review going viral right now for how insanely convincing it is. A shopper with the Twitter handle @savvvvyd shared screenshots of a review for a vibrator called Tracy's Dog.
We are going to ignore the implications of that name for now, but the vibrator is known for its powerful suctioning.
In fact, it's so powerful that the unknown reviewer claims she basically did herself an injury while using it. But it also sounds like it was worth it?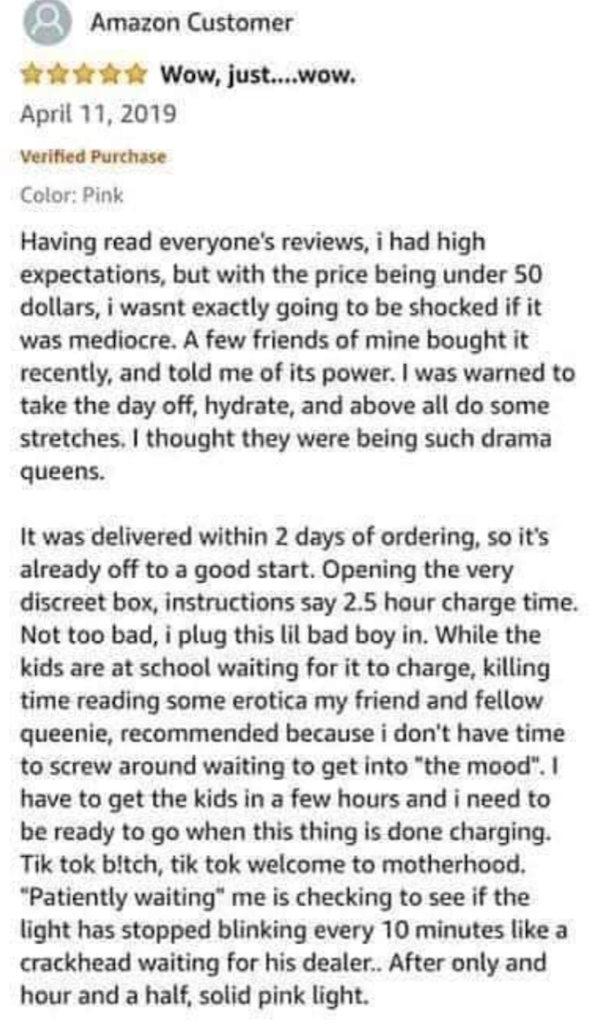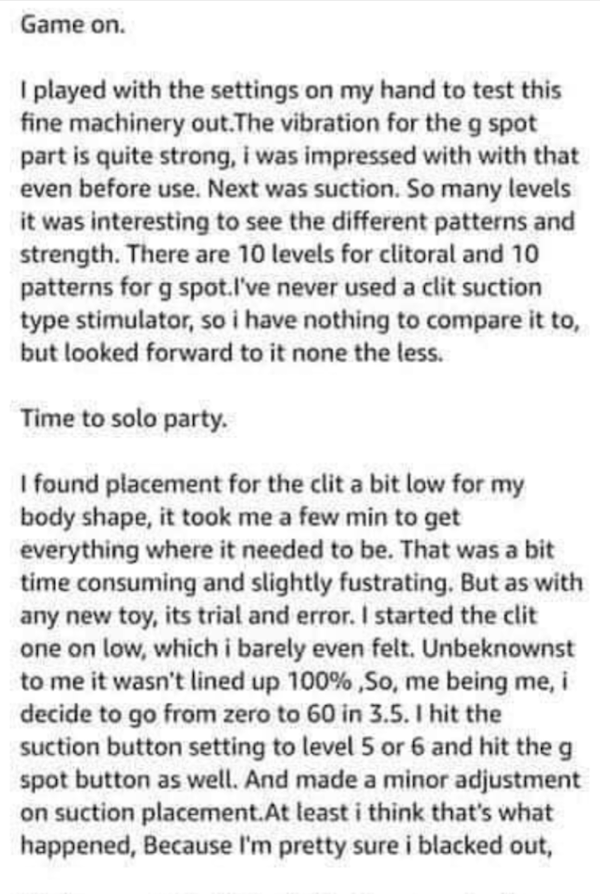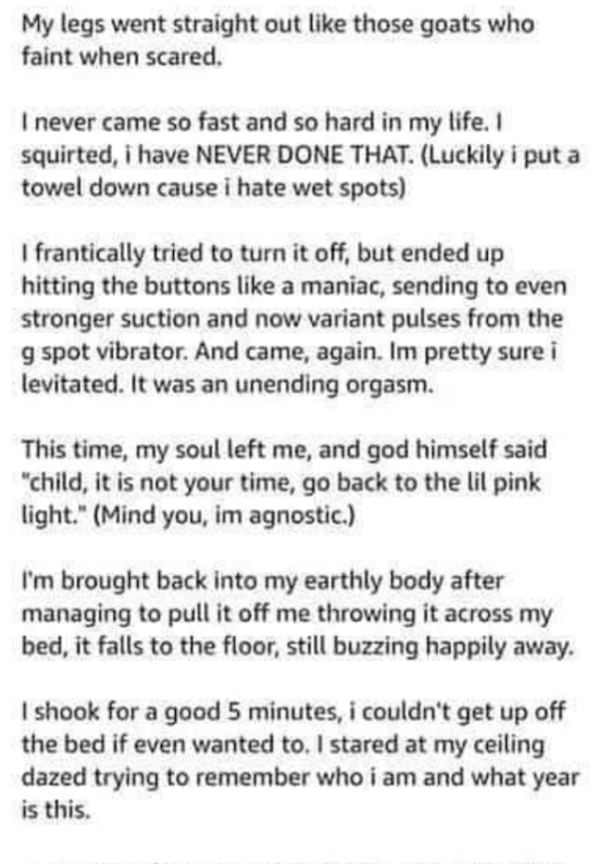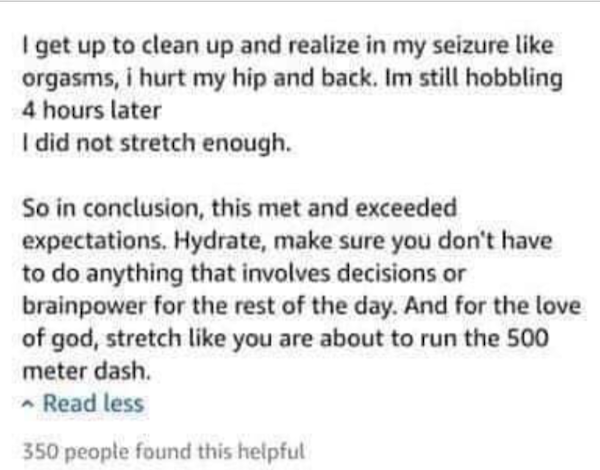 "Game on," wrote Amazon customer Express7976. "I played with the settings on my hand to test this fine machinery out. The vibration for the g spot part is quite strong, I was impressed with that even before use. Next was suction.
"So many levels it was interesting to see the different patterns and strength. There are 10 levels for clitoral and 10 patterns for g spot. I've never used a clit suction type stimulator, so I have nothing to compare it to, but looked forward to it none the less. Time to solo party."
There was one down-side to the vibrator, even in this ecstatic review. it didn't quite fit her body shape and required some adjustment. On the bright side, this led to an even more insane orgasm.
"I started the clit one on low, which I barely even felt," she added. "Unbeknownst to me it wasn't lined up 100%, so, me being me, I decide to go from zero to 60 in 3.5. I hit the suction button setting to level five or six and hit the g spot button as well. And made a minor adjustment on suction placement. At least I think that's what happened because I'm pretty sure I blacked out."
This was all @savvvvyd needed to hear before clicking on that purchase.
Since @savvvvyd's tweet about the vibrator went viral, it has completely sold out. The Daily Mail is reporting that it has also gone up in price by about ten dollars! Capitalism at work, folks.
A few people who are familiar with Tracy's Dog (help!) have weighed in to say that the vibrator is as good as they say. In fact, it's so good, they don't need relationships anymore.



There's even a past review in which someone claimed this vibrator cured their depression:
they're not wrong pic.twitter.com/CD5q04Pkkz

— holly (@inspidior_) June 30, 2019
Not to mention other happy customers…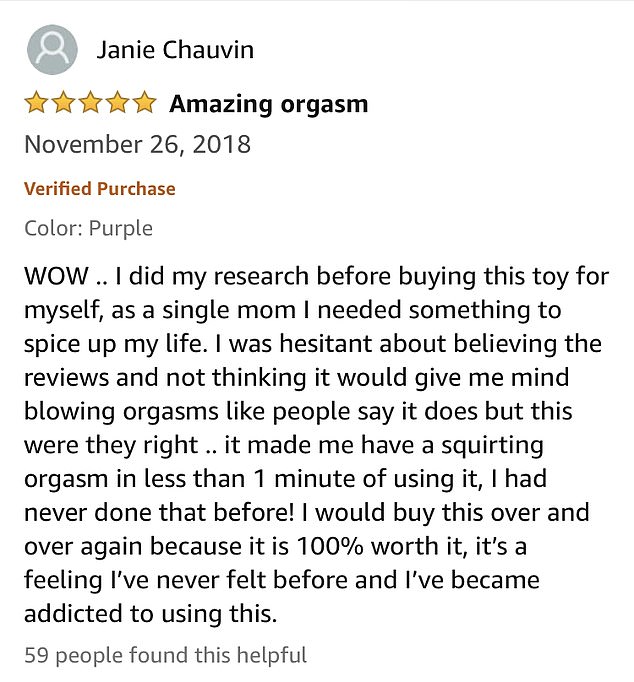 I mean, REALLY happy customers…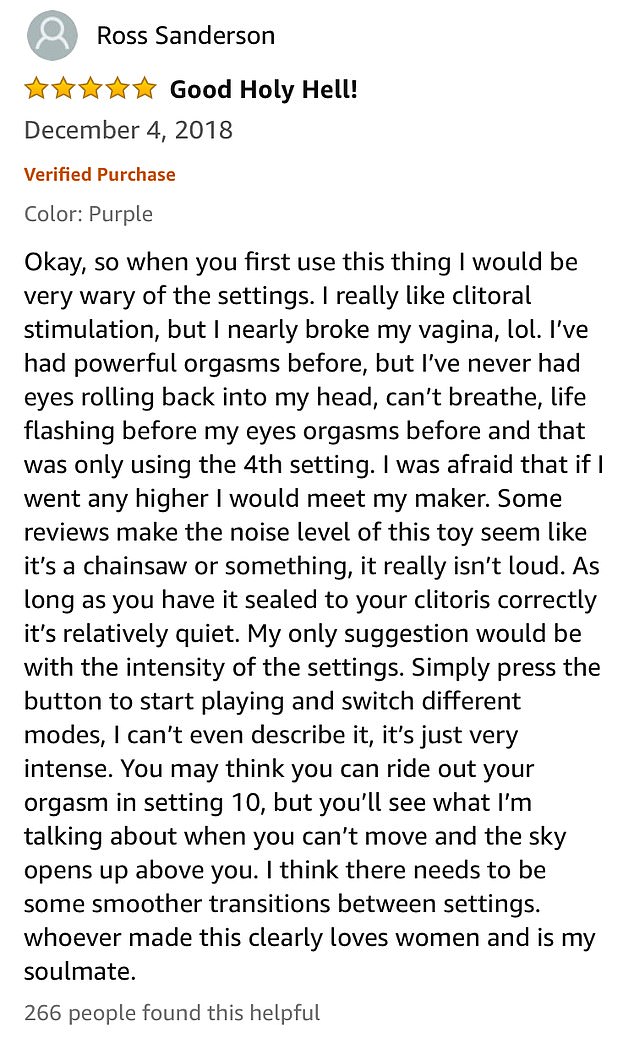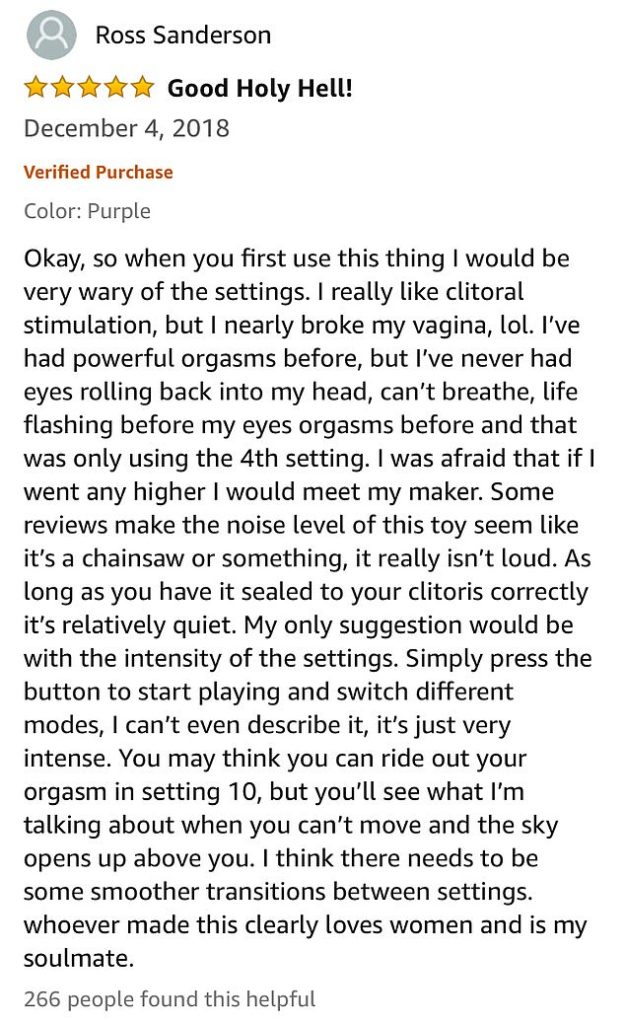 And @savvvvyd weighed in after delivery to say that she agrees. This vibrator is everything.
The price is only going to go up on Tracy's Dog. So please change that name.
More in masturbation: