The subreddit r/relationships can be pretty terrifying because it's full of stories from people in relationships they need literal rescuing from. After a half an hour of scrolling through these stories, you'll be advocating for love to be taught in tandem with algebra at schools. People deserve so much better, but they seem to have no idea!
For example, this harrowing tale from someone named u/zoroanarchist who titled a post "Girlfriend keeps taking my glasses."
He says they met at a party in his sophomore year of college when she slipped his glasses off at a house party and went to town on one another. Since then, slipping his glasses off has been a way of signaling she wants to be physically intimate, and he says she's pretty much the person who always initiates. He enjoys it, but she's always in control. Very in control.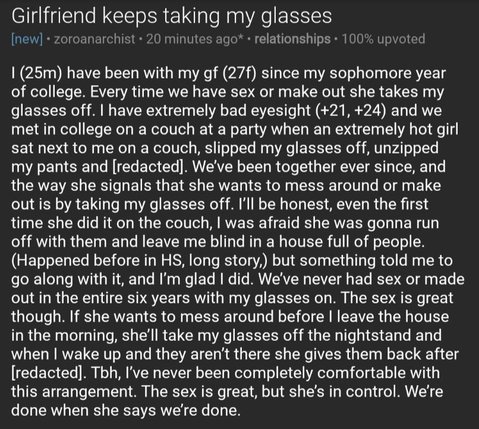 While it was mostly fine, he didn't love it and tried to talk to her about it:
A few times, she's kept them from me for hours and made me "beg" in a playful way. It was all very sensual, but again, it depended on me being blind and her deciding when to give me back my sight. A few days ago i decided to talk to her about cutting out the glasses play. She got surprisingly angry, like she felt like I'd invalidated the whole relationship.
He says he mentioned she was taking advantage of his disability and it led to a shouting match. They went to bed angry and when he woke up, his glasses were gone. His girlfriend tormented him all day, withholding his glasses. Without them, he was essentially helpless.
That night when she returned him, he was so exhausted by the day of captivity he fell asleep. He says they haven't had sex since, and he's been sleeping with his glasses in his pocket. You know, a very normal thing you should have to do while living with the person who is supposed to love you.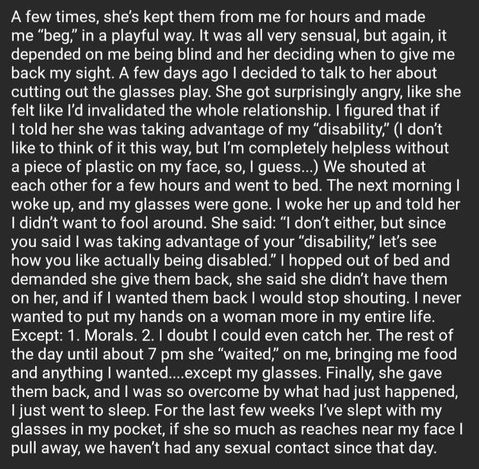 The OP was right to be so careful. He says he "stupidly" let his guard down (again, normal thing to have to worry about!!) and left his glasses on the nightstand. And she broke them in half.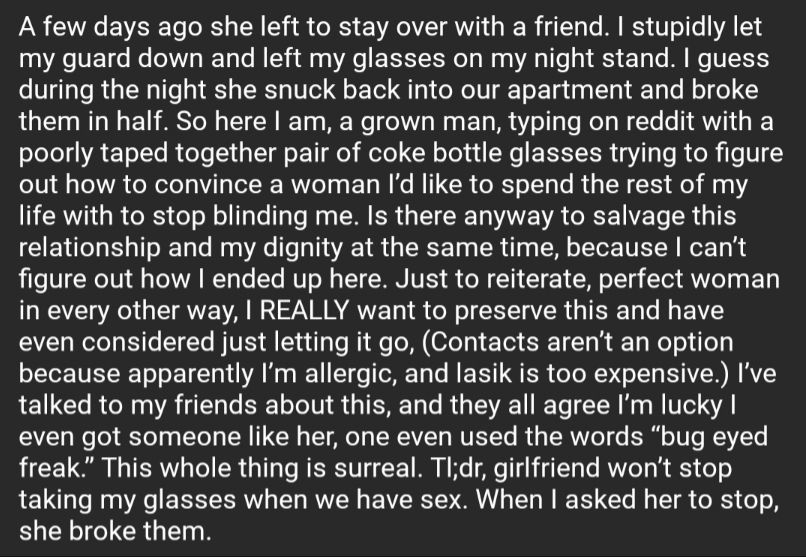 The OP says he's asked his friends and they've basically made him feel terrible and like he can't do better than this person who won't let him see if he doesn't do exactly what she wants.
"So here I am, a grown man, typing on Reddit with a pair of poorly taped together pair of coke bottle glasses trying to figure out how to convince a woman I'd like to spend the rest of my life with to stop blinding me," he wrote.
Folks, if you're asking a question like this, it's time to hit factory reset and move on from the relationship. The OP's comments to people on Reddit don't make it seem like he is planning to quit on this girl, though he is thinking seriously about people's responses.
Definitely don't have kids with her and instead run away immediately???? pic.twitter.com/IQco9lhdua

— Jen (@such_hockey_wow) March 1, 2020
Most are saying she's a manipulative and abusive partner, which is true. That was echoed on Twitter, where the post was shared:
My boyfriend has glasses, he takes them off for intimate time, showers and sleeping. I might occasionally playfully take them off him as my initiating but I would never take them from him. It's an extension of his body like hearing aids or a wheelchair.

— Kathrine Pandell 🎃🇩🇰🇩🇪🇸🇪🇬🇪🏳️‍🌈 (@kathrinepandell) March 1, 2020
He doesn't need Lasik, he needs a girlfriend who isn't evil

— Liat Miriam (@itsLIAT) March 1, 2020
Yes, though I'm sure a lot of men wouldn't see it as such, making it a very difficult case to argue for those that do (men reporting being raped by women are routinely dismissed.)
I guess most guys would just be like "oh yeah, [redacted]!"

— 🦔HedgeDog🐶 (@HedgeDogGaming) March 1, 2020
SHE'S INSANE

— Nia Renée Hill (@niasalterego) March 1, 2020
My ten year old would never

— BravoPeach (@BravoPeach) March 1, 2020
THIS!! THIS THIS THIS!!! ITS BEYOND HORRIFYING

— Dalal (@Diloolie) March 1, 2020
Your entire relationship began when someone did something that frightened you, bypassing every possible rule of consent, and in the end it was fun so you forgave her. Would it REALLY have been less hot for her to say what she wanted to do to you, and ask? But she didn't.

— Kari Dru (@KariDru) March 1, 2020
But seriously please just break up she's so manipulative & abusive.

— Supernova Girl ✨ (@xstar_girl) March 1, 2020
The whole "lucky to have her" thing… NO. NO HE'S NOT.

— Toffee (@T_MECE) March 1, 2020
right, like, as a glasses wearer, for the first half i was like "aw that's considerate, she doesn't want to smudge them up" and things took a HARD turn

— S.E. Scott (@shockvaluecola) March 1, 2020
And the friends just make it scarier.

— grrlintersect (@grrlintersect) March 2, 2020
He thinks he has to BE ON GUARD while alone in his own home. He's blaming himself for putting his glasses on his own nightstand!!!!

— 🦊 HalfBlindFox 🦯 (@Allie_F) March 1, 2020
We can only hope the OP escapes this cycle of abuse, and that maybe this story will teach other people what love does not look like.
More of the craziest Reddit relationship stories: