Photographer Shakira Rochelle seems to take a lot of intimate pictures of weddings, newborns, and pregnancy photos. It's obvious from looking at her work that she is great at setting people at ease and capturing memories that they'll be able to cherish in her images forever:
View this post on Instagram
She has spoken out about Black Lives Matter, a movement to end police violence against Black men and women, who have been the target of racist brutality basically ever since the existence of police. On her Instagram timeline, there is one image reading "Black Lives Matter" that was posted about a week ago.
View this post on Instagram
On Tuesday, Twitter user @PINKdot_COM shared a series of text Shakira Rochelle received from a couple she was scheduled to photograph a wedding for. It doesn't seem like this is the photographer's account, but someone else who knows her and had the texts. The wedding couple were canceling their contract with her and the reason why might not surprise you: they're racist.
I love it here. pic.twitter.com/hKH4WFOSk2

— Q.🍫 (@PINKdot_COM) June 16, 2020
The message from the irate bride reads:
Hi Shakira. I'm sorry to say that we are requesting a refund on the deposit for our wedding. We have done a lot of talking and we cannot bring ourselves to support anyone who is so outspoken on matters that simply do not concern them as well as someone that does not believe that ALL lives matter. We would be truly embarrassed to have you at our event and feel that you aren't stable enough to complete the job we need from you. Please let me know when and how we can expect our refund and we are requesting to be relieved from our contract, Thanks.
Yes, Karen, all lives matter, but right now we are talking about Black lives, because they're treated as if they don't. Calling someone unstable because they recognize that says a whole lot more about you than it does about them.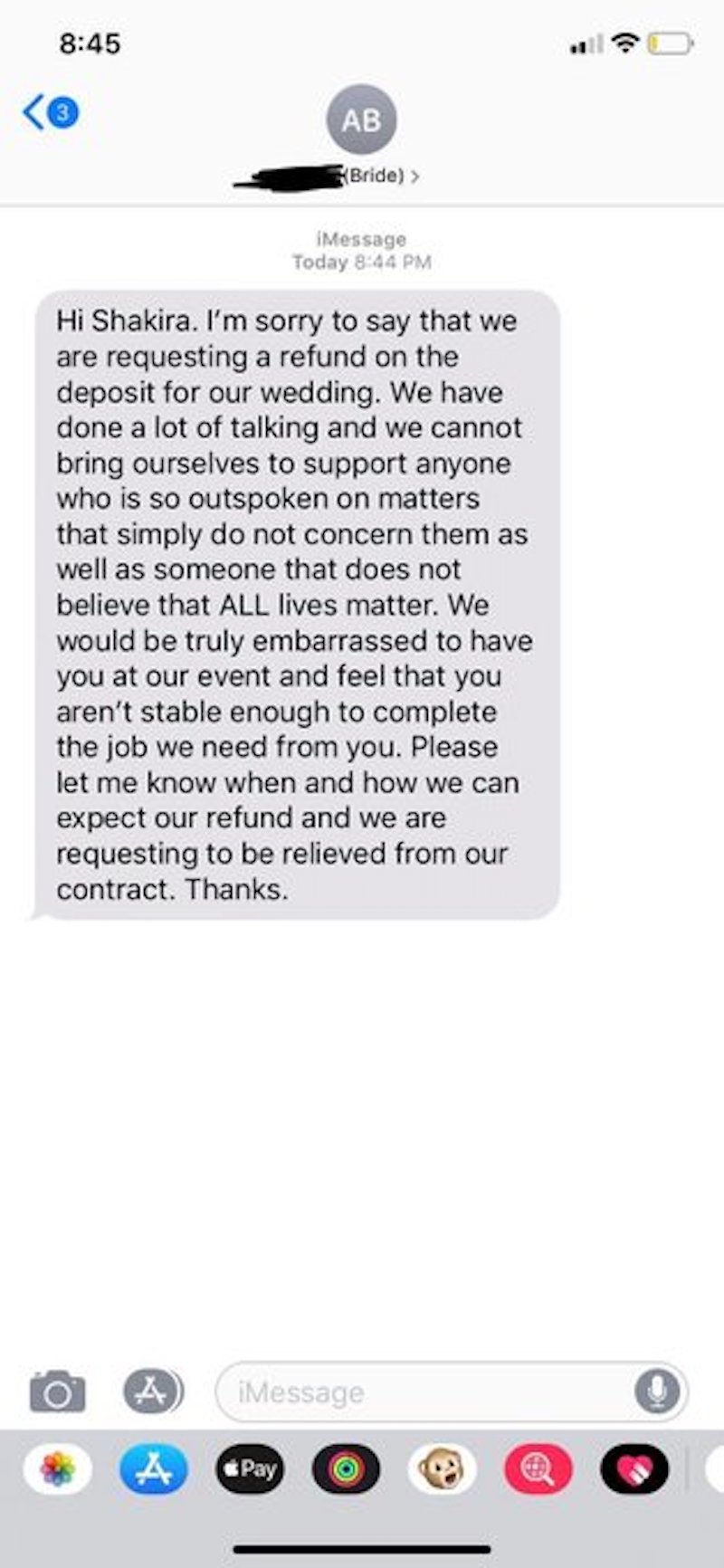 This is a deeply unfair cancellation, in my opinion. On the other hand, would Shakira Rochelle want to deal with these people at this point? I would not. And she's covered her bases, as can be seen in her reply.
"I am sorry to hear that," she politely responds to the bride. "Unfortunately the contract you signed states that your deposit is non-refundable. I will email you a cancellation agreement shortly that will require your signature to forfeit your date. I wish you a life time of growth and I would like to thank you for your donation to Black Lives Matter."
"You will be hearing from our attorney," the thwarted racist answers.
People are really stanning for Shakira in the replies:
@shakirarochelle I think this is her account

— Mario. (@_theonyxhotel) June 16, 2020
I love this songggg pic.twitter.com/D3emASHtnn

— STOCKZ (@investinStockz) June 16, 2020
My favorite flavor of shade. Poised & witty with a lil white tears for a lil razzle dazzle 😂😂😂 sent me! pic.twitter.com/qDMmCxMwS1

— 🧜🏿‍♀️Ariel The Ghetto Mermaid🧜🏿‍♀️ (@Miss_Jay77) June 16, 2020
"Thank you for your donation to Black Lives Matter" pic.twitter.com/HOX0DL5Pxd

— Małik Davis © (@MalikeyD) June 16, 2020
Lol white people love to say "you'll be hearing from my attorney" especially when they don't actually have an attorney

— Jax ⚡️ (@Diamond_Jax) June 16, 2020
Imma let you get married, but first I just have to say BLM is one of the greatest movements of all time

— Jessalyn Elliott Small (@JessalynSmall) June 17, 2020
both??? pic.twitter.com/weerokkhxn

— ramona dead flowers (@ShekGlo) June 16, 2020
And apparently the woman who canceled responded in the FB comments of the photographer, and got even more horrible, probably because she realized there'd be no refund coming her way no matter how much she paid her lawyer:
this was posted on facebook and this girl responded to it saying shakira was petty & should've given her NONREFUNDABLE refund back & then proceeded to post this pic.twitter.com/C83FkhC5ps

— ∆ L ∆ Y S I ∆ H 🌈 (@alaysiahhhh) June 16, 2020
It is great when racists lose money.
More insane bridezillas: