You know what they say: you can't choose your family. Except you actually can in a lot of ways once you're of legal age. Marriage is one way, but have you heard of leaving narcissistic and abusive family members behind entirely? One couple managed to do both on the same day.
TikToker Sarah Ragsdale posted a video of her sister's wedding ceremony that absolutely shocked people. In the video, her sister Anna is exchanging vows with her groom, John, when she says something like "I love you with all your flaws."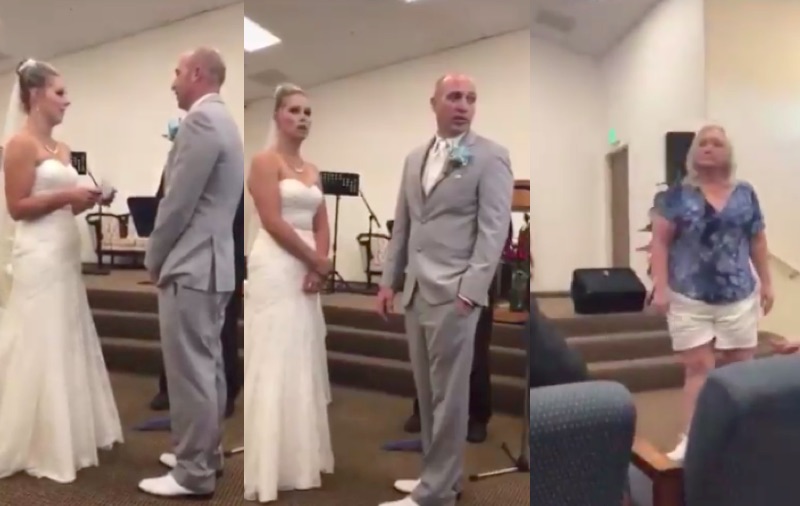 Just then, John's mother Judy starts literally yelling up at the podium, saying, "You're not going to say my son has flaws."
i feel like there comes a point when the mother-in-law has to get put in their place. her son should have CHECKED her but instead he just stood there pic.twitter.com/m1F1fmsmxt

— (@wavyemma) July 31, 2020
Some in the crowd awkwardly try to laugh it off, but it seems like Anna has seen plenty of Judy's sh*t before, because she immediately retorts, "You can leave. You're not going to ruin my wedding." The mother-in-law keeps going, though multiple family members try to approach her and diffuse the situation.
Part two pic.twitter.com/Ma4CGpgEyR

— Homewrecking whore (@neededmey) July 31, 2020
"I'm not leaving," she yells. "No, that dress you're wearing we paid for."
"Everybody has flaws and that's why I love him," says the bride. "You can leave Judy. You can get out of my wedding now."
When more people approach the mother-in-law, she threatens to have them arrested if they touch her. Someone shouts, "Tony get her out of here, this is not right."
The Daily Mail reports that Ragsdale said in the comments on the video that the MIL did not pay for the dress, she paid for the $100 alterations. Is that all it costs to get permission to humiliate someone at their own wedding? Seems like it should be higher. She also said that the reason the husband didn't say anything during the confrontation is he didn't want to give her even more power. He spoke with after they restarted and completed the ceremony.
Ragsdale has posted a few updates on the couple, since people were so intrigued by what happened. She says the MIL has nothing to do with the couple, of her own volition, and that includes her grandson.

But they're very happy together, as they deserve.
More crazy mother-in-law stories: