There are a lot of wild Bridezilla stories out there, but this one shared on Reddit by u/insanepeopleonfb might take the cake. It's just such a roller coaster of demands, entitlement, and strange needs, I almost respect the person who wants all these things. The journey begins with a screencap of an epic Facebook post from the bride-to-be, describing what she needs wedding guests to wear for some sort of elaborate dance at the location.
"The dress code is very specific because it will be used to create an incredible visual effect. If done right, it will make our synchronized dancing along __ beach really pop," she writes.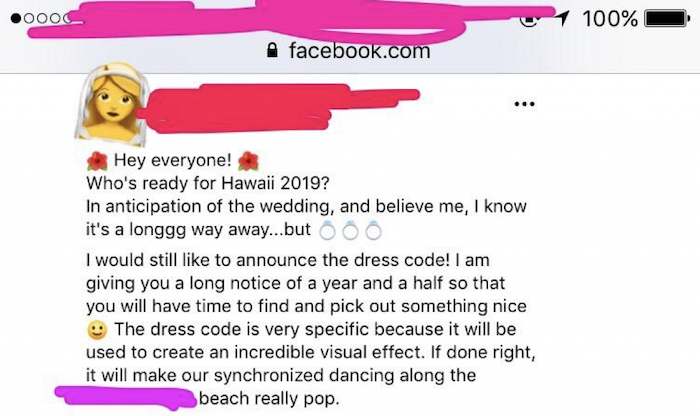 She then listed the requirements, by weight, for what kind of outfit people should wear.
WOMEN (100-160LBS)

-GREEN Velvet Sweater

-ORANGE Suede Pants

-Loubotin heels (the famous RED heeled shoes. When we spin and lift our feet, the effct will amaze you)

-Burberry Scarf
Okay before we even get into the weight stuff, who expects their wedding party to buy Louboutins to ruin on the beach?
MEN (100-200 LBS)

-PURPLE Fuzzy Jacket

-Soda Hat

-All White Trainers

-Plain Glow Sticks

WOMEN (160 LBS+)

-all BLACK sweater and pants. Any material.

-BLACK heels
So, women over 160 lbs won't get to experience the Louboutin effect. Men over 200 lbs can wear camouflage, and children have to wear red from head to toe because they'll be expected to somehow form a heart in the choreography.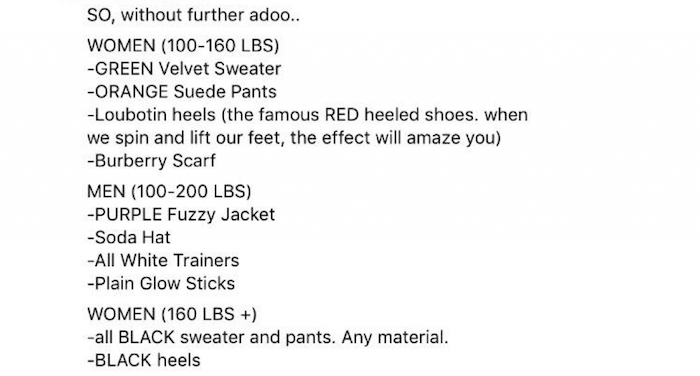 And that's not all! They're also requiring formal attire after the dancing ends.
"Remember, the venue is extremely upscale, and we want to be looking our absolute BEST ladies and gents," she continues, "Please if you look like trash, so will we. All jokes aside, we want you to invest in an outfit valued at at least $1,000. This includes jewlery, accessories, makeup, and hair. Remember ladies and gents, this wedding is 24k themed for a reason. You have a year and a half to get working. No excuses! Mwah."

You know, at first I was willing to believe that this might be a real person, because there are couples who think everyone should invest as much money as they want in their "special day." Destination weddings are pretty ridiculous in themselves when you think about it. But after this post went viral on Reddit, a new post was thrown up that is supposedly from the same person.
And it's even wilder: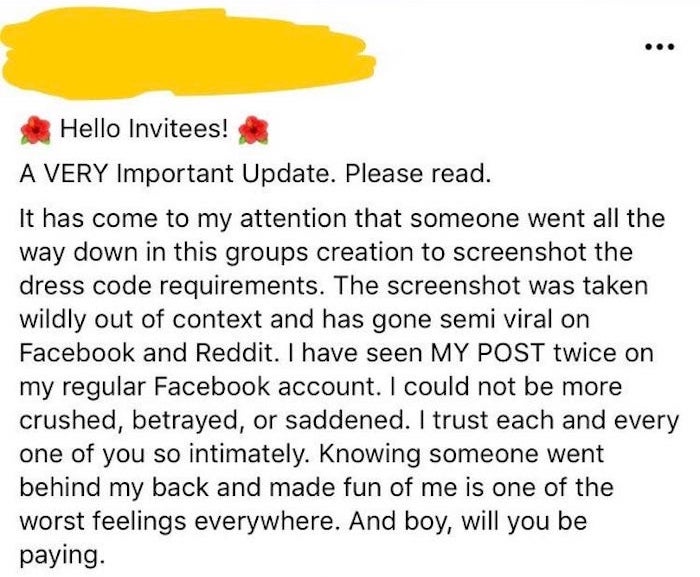 After railing against the betrayer who posted their wedding dress code, she announced that whoever it was will "be paying."
"In honor of the snitch who sold me out, I will be hosting the first-ever Polygraph Party at my house," she writes. "Bring your inner Sherlock Holmes because we will be hunting out the snitch who put me on blast. You think I'm kidding? I'm not. We just bought a real polygraph test for $99 on Amazon."
Anyone who doesn't come will be "presume[d] guilty" without a "valid excuse." She also offered a hundred dollars to anyone who has information.
The bride also tried to explain that anyone who has a problem with the dress code will be free to not dance and help in some other way, like cleaning up after dinner. I guess the venue isn't actually that fancy if no one is being paid to do that.
But what tips it over the edge to fully bonkers for me is this long description of the meaning of their dress code according to their "traditions."
"My husband and I are certified spiritual healers with over ten years of experience. You all know this. our wedding colors, fabrics, and initiate synchronized dance are something we hold very dear to our hearts. the expensive clothing represents the riches we wish would come. The black and camouflage outfits represent the aura of the devil that we must shoo away. The soda hats represent our wishes for an abundance of life saving liquid. You get the picture. We met at a psychic's desensitization chamber over 12 years ago in Italy, as you all know. Why not bring our traditions and beliefs into our wedding? Would you show up to an Indian person wedding and make fun of their culture and their tradition? if not, don't judge ours."
Okay, she's got to be a troll…right?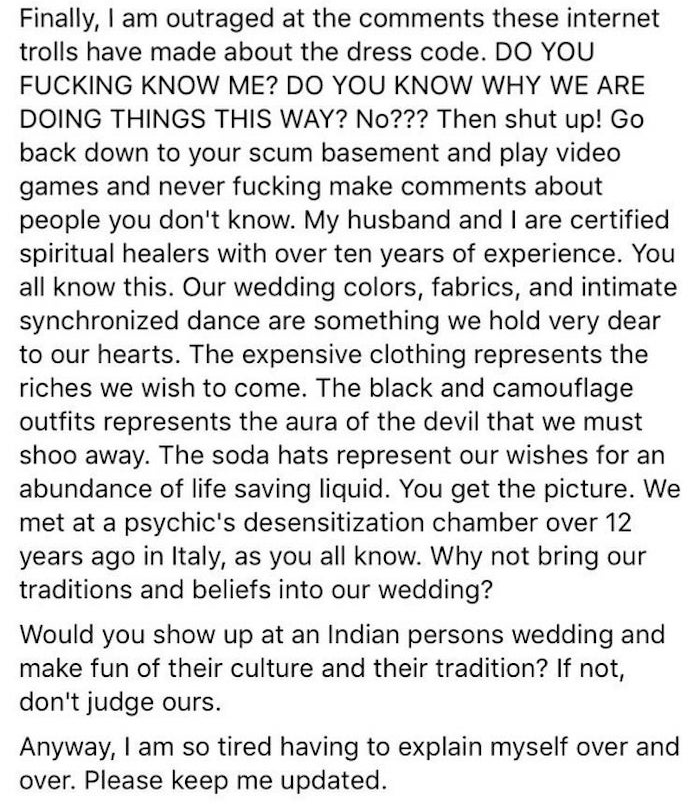 But still, an amazing story! And in the event that this person is for real and managed to throw her wedding the way she wanted, I'd say her friends are even weirder than she is, because no one should put up with this kind of crap.
More insane bridezillas: