Last week, you tried to replace Baby Yoda with Babu Frik. This week, you're trying to replace him with Baby Sonic. Can't you just let a lil' green guy live? The answer is "no," isn't it?
A Japanese trailer for Sonic the Hedgehog dropped and it revealed a little surprise.
BABY SONIC!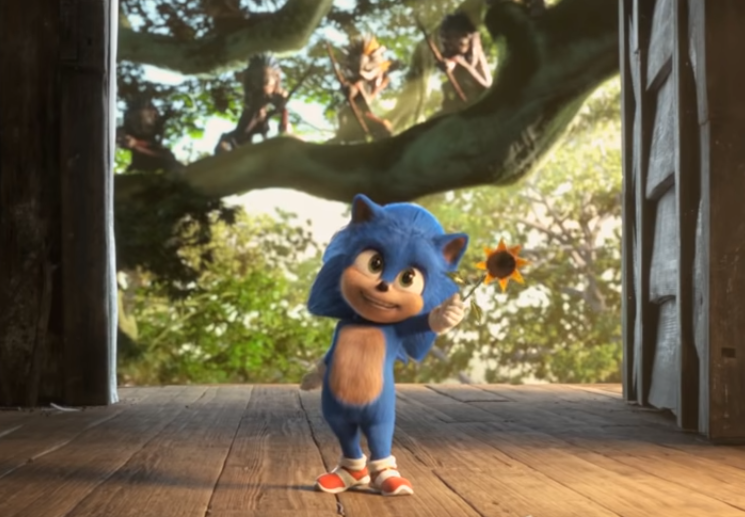 HOLDING A FLOWER!!
Me scrolling through my shitty timeline and then discovering BABY SONIC pic.twitter.com/4a1R8IR6VK

— Ben! (@Babyl0n96) December 26, 2019
Based on how the original, teeth-filled Sonic design looked, it was kind of a surprise how adorable Baby Sonic is.
Here's what I'd imagine the original Baby Sonic design looked like pic.twitter.com/947CPaH53C

— Pixelbuster (@Nitomatta) December 26, 2019
WAIT, ARE YOU TELLING MEWE COULD HAVE GOTTEN A BABY VERSION OF OLD MOVIE SONIC?????

WE WERE R O B B E D pic.twitter.com/t1x9DQfXBa

— Salty (@saltydkdan) December 27, 2019
i would do anything to see the fucked up original pre-fixed design of baby sonic. show me awful baby sonic

— Hard Drive (@HardDriveMag) December 27, 2019
Imagine what it would've looked like with the original movie design.

— AxisSlash Anthony Barajas (@Barajasanthony4) December 26, 2019
One Twitter user pointed out that it could have been worse. So much worse.
since we're talking about baby sonic, remember this monstrosity from sonic underground? pic.twitter.com/RIKQKPFyyE

— podunk | *clever name/joke here* (@PlasmaMagician) December 26, 2019
Of course, we can't just have two perfectly nice, adorable, serotonin-pumpin' babies and be happy with it, right? No, we have to try to make it a competition.
Who's cuter???

BABY YODA OR BABY SONIC? pic.twitter.com/7MF769R7n5

— #StarWars 🎄 ⋈ 🦖 🦕 VS 🦕 🦖 ⋈ 🎄 #StarWars (@Vincent87411886) December 27, 2019
Baby Yoda ain't got SH*T on Baby Sonic! 👏🏾 pic.twitter.com/ehHfrOC29Z

— J.D. (@jdwitherspoon) December 27, 2019
the "im going to punt baby sonic" and "im going to put baby yoda in a blender" style posts have the same energy as being in third grade and saying youre going to fire a grenade launcher at barnie the dinosaur

— tesla killdozer (@argumentwinner) December 27, 2019
baby sonic sooooooo cute 🥰
man fuck baby yoda pic.twitter.com/2oW3Q5oUT3

— 🌟Mint Blais🌟 (@MintBlais) December 28, 2019
Even THE MEDIA is in on it.
Choose your fighter: Baby Sonic or Baby Yoda https://t.co/Po5lZF9tIf pic.twitter.com/MjDYlSMu6n

— E! News (@enews) December 27, 2019
It almost makes us wonder which baby will we get next?
Baby Yoda
Baby Sonic

… Is it finally time for Baby Mega Man to shine? (yes, this is official) pic.twitter.com/ETzYGuoLNQ

— Brian (@Protodude) December 27, 2019
Finally. A trend I'll happily participate in. Here's a Baby Sonic, Baby Mario, and Baby Crash. Lol#babysonic #babymario #babycrash pic.twitter.com/8kc8s1bZm5

— Brandon Santiago (@4BrandonJS4) December 27, 2019
Personally, we'd like to see a baby Ecco the dolphin.
baby yoda, baby sonic, baby thanos, baby groot, baby grinch, baby croc

No

Baby Ecco pic.twitter.com/15L3kGQZH1

— 💫✨🌟 Will @ ELF PRACTICE (@starcitypark) December 29, 2019
Hell yeah.
However, one has to ask: Is the discourse becoming TOO overrun with babies?
Twitter right now#BabySonic #BabyYoda pic.twitter.com/8kj8uubmZY

— Nirbion (@Nirbion) December 27, 2019
Absolutely not.
Baby Sonic joins Babu Frik, Baby Yoda, and Baby Groot in the list of cutest things ever created. pic.twitter.com/J8e2ovT5dW

— Santiago Mayer (@santiagomayer_) December 27, 2019
More Baby Yoda cuteness: