Some people, including politicians who can be voted out this November, are straight-up bragging about refusing to practice social distancing on Twitter as though it makes them brave or special rather than just making them dirtbags.
11.
I just went to a crowded Red Robin and I'm 30.

It was delicious, and I took my sweet time eating my meal. Because this is America. And I'll do what I want.

— Katie Williams (@realkatiejow) March 14, 2020
12.
Be smart; don't panic. We will get us through this #coronavirus pic.twitter.com/SyvOAWXItK

— Senator John Cornyn (@JohnCornyn) March 14, 2020
13.
Why are Americans like this? When it's not #RedRobin woman, it's the FUCKING GOVERNOR OF OKLAHOMA.#COVID19 is not a terrorist attack. You're not showing us how "brave" you are. You're showing us how selfish you are. pic.twitter.com/vzPVk3fdU4

— Mona Eltahawy (@monaeltahawy) March 15, 2020
14.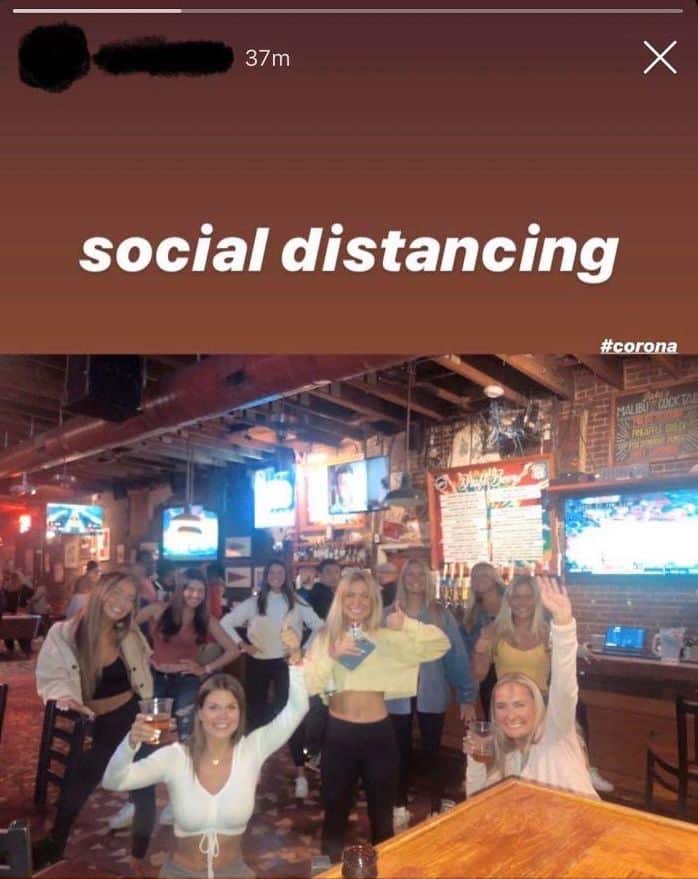 15.
While my husband and I are quarantined for suspected #coronavirus infection, and unable to be tested, my in-laws are all bragging about going out shopping.

Two of the four of them are immunocompromised.

They are all fucking idiots.

— Total Pleb (@veryangrypleb) March 15, 2020
Meanwhile, intelligent people who are for various reasons incredibly stressed out about the spread of the coronavirus are breaking down crying over the sight of people ignoring CDC advice to stay home. Recent estimates suggest that around one million people in the U.S. could be killed by COVID-19 before the initial outbreak has died down and we have some herd immunity to the illness.
For those of us who have elderly, immunocompromised, or generally vulnerable loved ones, or are one of those things ourselves, well, we hate every single person in those bar photos. We especially hate reading that bars this weekend were more crowded than some locals had ever seen them before.
16.
I gave 4 rides tonight, all of them going to bars or clubs. After the 4th, I logged off, pulled into a parking lot, and sobbed. No one is quarantining. No one is listening. They don't know it yet, but they are killing each other. The sense of hopelessness is overwhelming.

— Your Uber Driver (@uber_trips) March 15, 2020
17.
Social Distancing is being ignored. Look at the lines! This is a public health emergency. Please shut them down! These aren't the only bars/'restaurants' in Southie with lines either!#coronavirus #FlattenTheCurve #StayHome #Boston #Massachusetts #SocialDistancingNow pic.twitter.com/YP4tNfNGZW

— Caroline K (@Scaroline1) March 14, 2020
18.
East Lansing City Council member posted this pick of The Riv, an E.L. bar, about an hour ago on Facebook. City officials calling on county health department to shut it down. If there are more than 250 people inside, it's a misdemeanor under the governor's executive order. pic.twitter.com/1i0TdZsviN

— Zach Gorchow (@ZachGorchow) March 14, 2020
19.
There's a line to go to the bar across my apartment. I've never even seen this bar crowded before. Is that… good? pic.twitter.com/Fb7NFSFFad

— not arih (@ArihConH) March 14, 2020
20.
Here's that line I took from across the street. It was really bad – that bar is tiny and should not have been open and packed today pic.twitter.com/zZsOBFdbCb

— Anjali Kumar, Ph.D. 🏳️‍🌈 (@anjalikumar6) March 15, 2020
More coronavirus: