Look out White Claw… Four Loko seltzer is coming for you.
By all accounts the beverage of choice this hot girl summer is White Claw, an alcoholic seltzer that has the internet swimming in bro-y memes.
But now a new challenger has emerged in the form of Four Loko seltzer, which announced it was diving into the alcoholic seltzer market head first and taking on White Claw in what can only be called the Seltzer Wars.
According to Business Insider, Four Loko seltzer will be nearly three times boozier than White Claw, with an alcohol content of 14%, which is the equivalent of most wine.
Hard Seltzers ran so we could fly pic.twitter.com/g5ilBIyhl4

— Four Loko (@fourloko) August 13, 2019
This is, of course, appropriate for Four Loko, a brand best known for having been banned in several states due to its potent combination of alcohol and caffeine. (Perhaps Four Loko seltzer can clean up the brand's image.)
It's no surprise that Four Loko seltzer is entering the fray at this moment. According to Business Insider the hard seltzer market is booming with sales having shot up 200% in the past year alone and brands scrambling to release alcoholic seltzers of their own.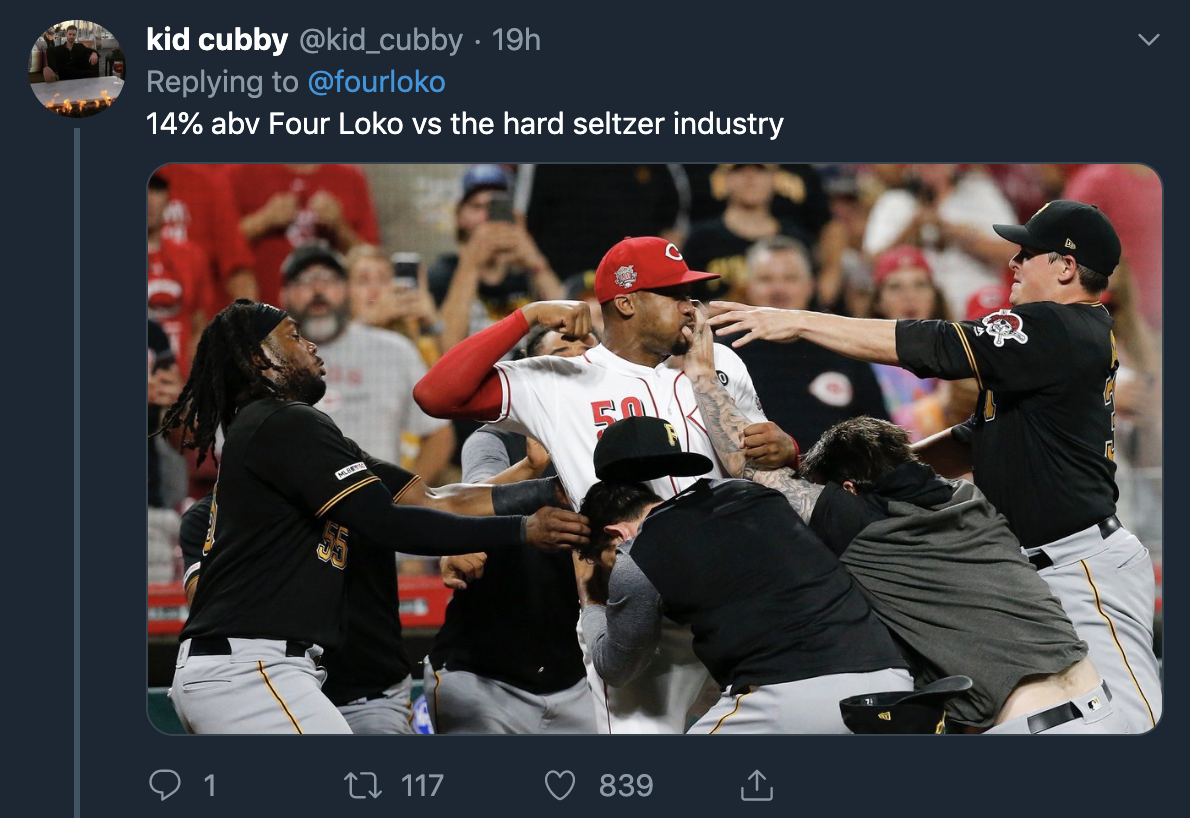 Pabst Blue Ribbon is getting in on the hard seltzer game as well, with a new sparkling beverage with 8% alcohol. It's more than White Claw's 5%, but less than Four Loko seltzer's 14%—possibly a happy medium.
The Claw may be law but can White Claw survive Four Loko seltzer challenging its sparkling supremacy? Ask any guy wearing a backward baseball cap to find out!
drinking White Claw v. drinking Four Loko seltzer pic.twitter.com/SADTZcH4YJ

— pwnteam (@pwnteam) August 14, 2019
More funny memes, tweets, and pictures: