There are no shortages of 1-star-reviewers out there.
Take for example this Chinese restaurant owner, who roasts people who leave him bad reviews:
After a local woman left a strange one-star review for Ben Madigan's Bar and Kitchen in North Belfast, Ireland, the owner clapped back—and won the support of social media users.
A woman who came into the pub with her own bag of tea and asked for hot water and sugar—and was told she could not have a second hot water—complained about the service, calling it "disgraceful" and giving a one star review on Google.
Owner Kelvin Collins took to social media, saying he "really can't believe this happened today" after reading the complaint.
"Visited this afternoon after an important meeting. I ordered one hot water and sugar and they wouldn't serve me again as I used my own teabag. The bar was virtually empty and they weren't under any pressure with only 2 bar staff working. As a local woman I find it utterly disgraceful that they would begrudge a 2p teabag because it 'might as well be alcohol.' AVOID IMHO," the woman wrote.
Collins responded and wrote an explanation of why staff refused her a second cup of hot water: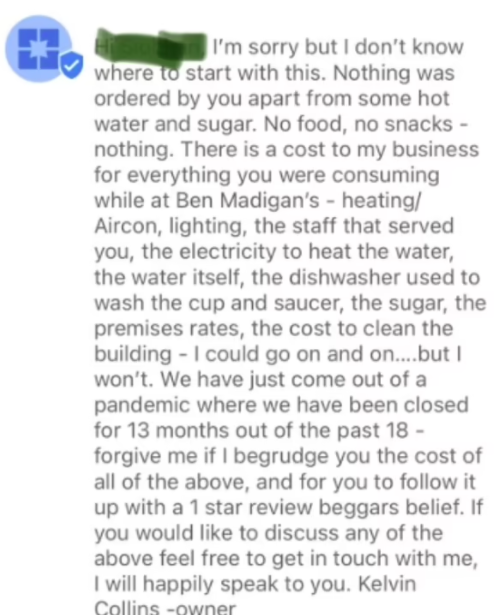 "There is a cost to my business for everything you were consuming while at Ben Madigan's—heating/aircon, lighting, the staff that served you, the electricity to heat the water, the water itself, the dishwasher used to wash the cup and saucer, the sugar, our rent, the cost to clean the building – I could go on and on….but I won't."
Collins also said that the bar had been closed for 13 out of 18 months during the pandemic.
Folks on social media praised his way of handling the situation—and Collins eventually even took to Twitter to suggest that folks leave the woman alone out of concern for her and in the spirit of kindness.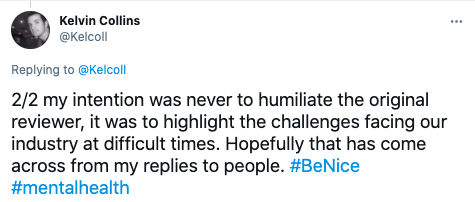 "Obviously actions have consequences, can I ask that no one researches or mentions this author in any tweets as understandably she is not in a good place on the back of this," Collins wrote. "She knows she has made a mistake and my intention was never to humiliate the original reviewer, it was to highlight the challenges facing our industry at difficult times."
More bad restaurant customers:
Featured Image: Google