Chrissy Teigen probably has lots of private moments she doesn't share with the world, but I'm not sure what they are. We've seen the vagina steam, the post-birth underwear, the good times and the bad. That's probably why she's so popular—she lets people see into her life. Us regulars want to know what's up with the rich and famous, and Teigen does not hold back.
That has turned out to be true even when it comes to her health. On Tuesday, Teigen shared a video of herself being tested for COVID-19, which involves having a little flexible stick jammed pretty far back into your nose.
It looks super uncomfortable, and I'd definitely be even more uncomfortable if someone was filming me, but Teigen is a natural.
Honestly loved it pic.twitter.com/UNRwG3HNcD

— chrissy teigen (@chrissyteigen) May 26, 2020
She actually tells the medic, "It's not bad at all."
But she also wrenches away from the test as soon as possible and makes this face: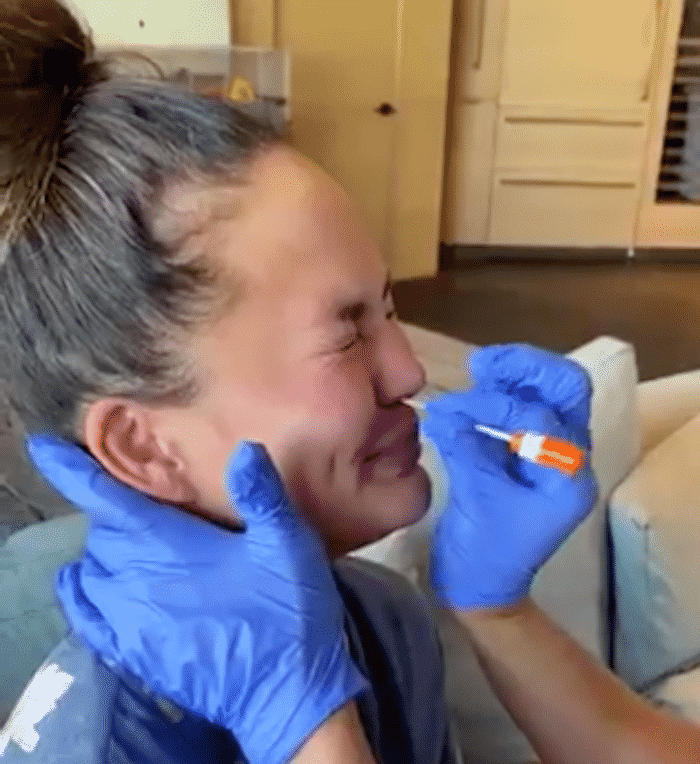 To be honest, it does look uncomfortable and it also looks incredibly fast. It seems worth it to know whether or not you're carrying the virus.
A lot of people have tried to come for Teigen, criticizing her for getting a test when there don't seem to be many around the country. She clarified that got one because she is going to have a surgery, and they need to know if someone is carrying the virus before that happens:
For shits and giggles? I'm getting surgery.

— chrissy teigen (@chrissyteigen) May 26, 2020
Everyone in LA can get tested for free. I'm having surgery and had to. I'm sorry if this offends you. https://t.co/2EFZeowzuq

— chrissy teigen (@chrissyteigen) May 26, 2020
I just said it was easy and laughed the entire time. What are you talking about? It couldn't have been easier. https://t.co/eqbuC0dVwO

— chrissy teigen (@chrissyteigen) May 26, 2020
Don't be! ❤️

— chrissy teigen (@chrissyteigen) May 26, 2020
She later revealed that she is undergoing surgery to remove her breast implants, explaining that "They've been great to me for many years but I'm just over it. I'd like to be able to zip a dress in my size, lay on my belly with pure comfort!"
View this post on Instagram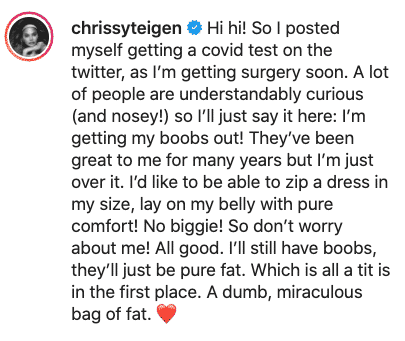 Also, tests in Los Angeles for coronavirus are free and anyone can get them. Many of them are also mouth swabs and not the deep nose test, so don't be put off by this process if you want to contact your health provider for one.
You probably won't be able to get a doctor to come to your actual mansion, though. That's a celebrity only thing, for sure.
More Chrissy Teigen Twitter: