Weddings are always catalysts for drama, as people lose all perspective planning their "special day" that costs as much as a down payment on a house. During COVID-19, it's even worse. Community spread is one of the most common ways that the coronavirus takes over entire families, and weddings are little petri dishes. Many people have sensibly postponed their weddings are had extremely small ceremonies, knowing they can have their parties later. But there are lots of people who are not sensible at all who believe the ceremony must go on.
Editorial director of the Observer, Mary Von Aue posted an invitation to a wedding. It's unclear if it went to them or someone sent them a pic of it, but if I received this invitation it would probably be the beginning of the end of my friendship with the sender.
This was included in an actual wedding invitation. pic.twitter.com/qidA7SO6CJ

— Mary von Aue (@von_owie) July 23, 2020
It starts, "Please understand that our venue is limited in the number of guests we will be able to accommodate for our wedding day. As much as we would love to have each and every one of you join us on our big day, we are forced to split our guests into groups to ensure we do not surpass our capacity restrictions."
So, don't have your freaking wedding in a closed venue during a pandemic??? Whatever, that's not even the shocking part. If you do insist on having a party where people should wear masks and not be near each other, it does "make sense" to have fewer guests. What's more surprising is how blatant they are about who they're choosing to include. They write:
Group A: Please RSVP as soon as possible. We appreciate your promptness as we will be able to extend any vacant seats to additional guests.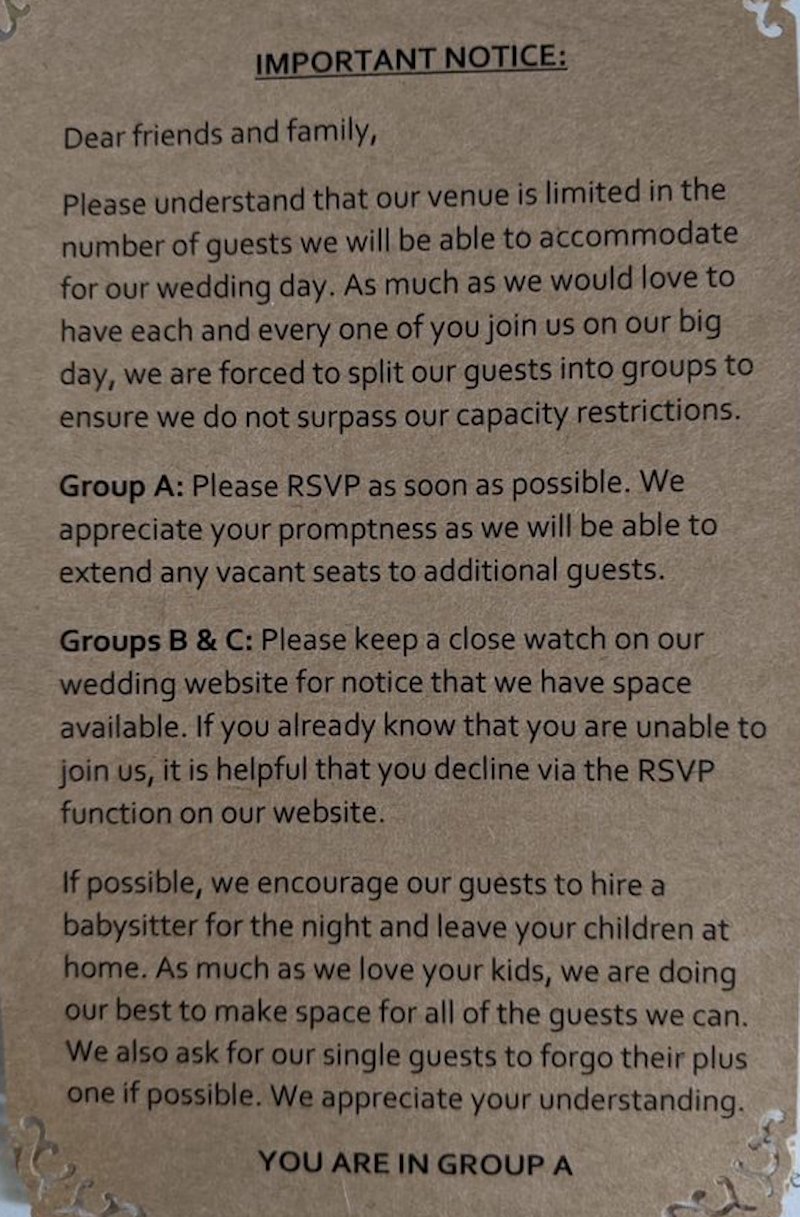 Okay. Now here's the really insulting part:
Groups B & C: please keep a close watch on our wedding website for notice that we have space available. If you already know that you are unable to join us, it is helpful that you decline via the RSVP function on our website.
Can't wait to check their wedding website to see if I got in like it's the Hamilton lottery. It continues:
If possible we encourage our guests to hire a babysitter for the night and leave your children at home. As much as we love your kids, we are doing our best to make space for all the guests we can. We also ask for our single guests to forgo their plus one if possible. We appreciate your understanding.
Sounds like a freaking blast. The person who received this invitation is told at the bottom, "YOU ARE IN GROUP A." Would you be flattered or disgusted? Most people were horrified by the rudeness of this missive:
I don't think they'll have a capacity issue so the problem solved itself.

— Mary von Aue (@von_owie) July 24, 2020
That's such a good point. Like why would you do that to your third cousins

— Mary von Aue (@von_owie) July 23, 2020
My fav part is "please keep a close eye on our website for availability." Like you're that special that someone is checking your site constantly! & If I was group B or C I'd just send this response, "I opt out of this & all future correspondence. Thanks!"

— Anne Easton (@anne_k_easton) July 23, 2020
This is a no-brainer. Take my name off your list, don't expect a wedding gift, don't send me X-mas cards & lose my email address & cell phone #. Don't call, don't write, no need to keep in touch. Don't want to see wedding pics or any future kid pics. I won't follow you on Insta.

— MΞGAN KΞLLΞY HALL (@MeganKelleyHall) July 23, 2020
While others thought it was completely understandable, because planning a wedding is expensive and COVID-19 is making it harder:
This just seems like someone trying to pare a big wedding down to a small one where an unpredictable amount of close friends and family might say no. I don't envy these people and I think the comments here are crappy.

— Justin Varricchione (@Taco_Jones) July 24, 2020
I am completely in favor of handling the guest list in this way. Group A will be close family and BFFs, those who "must" be invited.

Groups B and C will be those who would be expected to be there if there weren't capacity restrictions but aren't in Group A.

They'll understand.

— Walt B (@wb___maine) July 26, 2020
Yeah…I am honestly shocked that so many people are acting like they'd be SO offended to not be in group A. Like…grow up?? Realize that we're in a goddamn pandemic and people are likely doing their best to make it work? Are people this self-centered??

— slo jenn (@Roberta_Glass) July 26, 2020
Group A may choose from filet mignon, wild salmon or Cornish hen. Group B may choose from roast chicken or baked rigatoni. Group C may choose PB&J.

— Robin Warshaw (@robinwarshaw) July 25, 2020
Some also pointed out that grouping guests this way isn't uncommon, it's just weird to be so blatant about it:
We literally did this for our wedding.

We had a budget and hall that would allow 120. We had 160 on our list. We mailed out 120 and mailed the other 40 as we got "No's" from the "A list". No hurt feelings, everyone able to come could come, we had 118 there.

— Dan (@TractorLaw) July 26, 2020
It's not good planning, it's terrible hosting. Every wedding has a preference list, and most are quietly grouped like this, but you don't send it out to guests. Are they supposed to queue outside your house and take a ticket?? "Congratulations, you are our 79th favourite person"

— Kate (@ThisIsKateL) July 25, 2020
Haven't people always done this… but just not advertised it? I've helped with weddings where we sent out invites and if primary people couldn't come, there was a list of second round invites…

— Miss Matched Kamala Shoes (@threejuniormnts) July 26, 2020
Oh FFS. I designed wedding invitations for 14 years. The group A and B list is def NOT new. But a classier host (and smarter designer) wouldn't let you KNOW that. You just stagger your mailing dates. Jesus. Bush league.

— Amanda Eich (@MandaRoseEich) July 25, 2020
In my opinion, good etiquette dictates we don't tell our friends that they're third-tier to their face, especially if we're expecting any gifts at the ceremony. Or postpone until there's a vaccine.
More tacky weddings: