A lot of people's 2020 plans have been canceled. Travel, weddings, their actual jobs. In all that uncertainty, it's very unfortunate that people are also getting their housing canceled. Landlords are still threatening people with evictions, trying to grab their stimulus checks, and intercepting packages to get their rents, even though there are mortgage relief programs in many places. Kicking people out during a pandemic is a terrible thing to do, but it might not be the most strategically savvy move either. People are pissed. Like Mr. Sandy Batchelor.
My Plans 2020 pic.twitter.com/ggb9YlThhq

— Sandy Batchelor (@sandybatchelor) May 19, 2020
I don't know why actor Sandy Batchelor is being kicked out of his apartment. He might just be a terrible tenant. But the video he shared on Twitter under his Twitter handle @SandyBatchelor, indicates a far deeper animosity between himself and his landlord. It also seems unlikely that he's working much right now, though he might start soon since his clip went viral. It's supposed to be for the leasing agents who are going to rent it out from under him.
He posted it with the caption, "Our letting agent asked us to make a video of the flat we are basically being forced out of. I wish them the very best of luck."
Our letting agent asked us to make a video of the flat we are basically being forced out of. I wish them the very best of luck. pic.twitter.com/h3fcOw657w

— Sandy Batchelor (@sandybatchelor) May 17, 2020
After showing off his slippered feet, Sandy takes us on a tour, which reveals strategically placed printed signs that read, "DON'T RENT THIS FLAT!" and "YOU WILL HATE IT HERE" and "THERE IS A GHOST WHOO." But the stuff he says might be even better than that.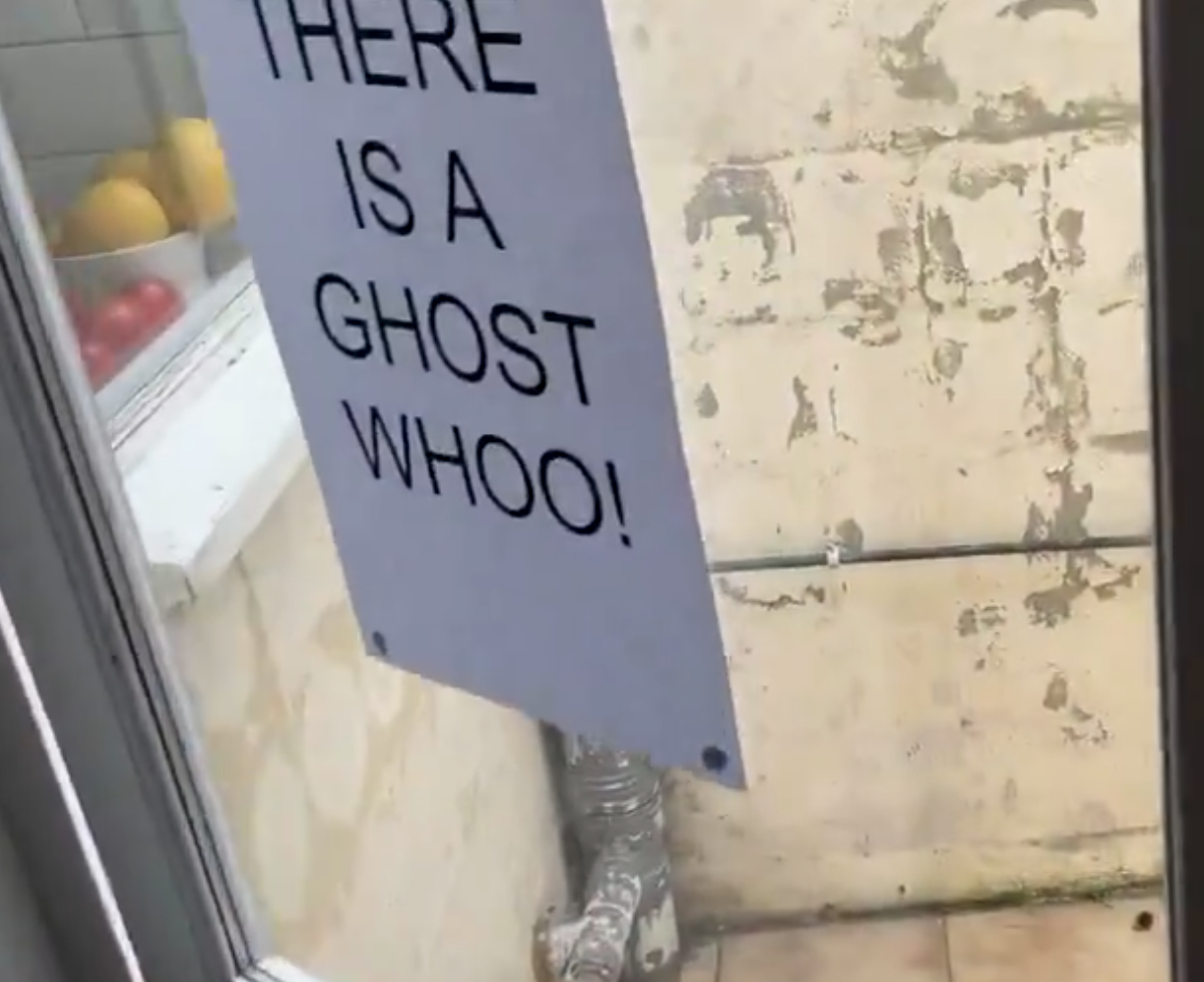 "This is the living room, all this is coming with us because the f—k comes unfurnished," he starts. "There's the bins just outside the living room window, that's lovely in the summer when it's hot."
Then he points out, "Ant bait station because there's ants, that fireplace doesn't work. There's some shelves, the boy who put them in must've been drunk when they did it, because there's about a 30-degree angle in them."
In the kitchen, he points to different shelves and says they're leaving with him, too, and the same boy who did the living room shelves must have been responsible for the kitchen because "it's only half finished."
In the backyard he points out a rat bait trap, because the area has a big rat problem, but says the trap doesn't matter because "you can feed them plutonium" and they're still coming back. He points out a black mold problem in the corner, and says his landlord responded to complaints about that by saying they should keep the place well ventilated…in January.
Finally, at the end, Sandy shows off a wardrobe that's leaving with the current tenants and in the mirrors you can see he's wearing a black bra, panties, and sunglasses. Then he tells everyone not to vote Tory.
Sandy's video has been watched over seven million times, and folks are really enjoying it and the opportunity to talk about crappy landlords and petty revenge:
Getting a few likes on this. To clarify – no destruction just minor vandalism of wallpaper and paint etc that she paid for. She had lights sunk into the ceilings too. Dismantled all that.

— Kathryn White (@RealKaffo) May 17, 2020
My old landlord at uni used the same excuse on a female housemate except he used the term "heavy breathing", basically implying she was a massive slut

…He was right, but doesn't mean it caused the damp

— Alex* (@Am7b5) May 17, 2020
Yeah, they gave "guidance" on that but it proved as effective as the guidance to not go to pubs without a formal closure of pubs.

All that actually happened was that they extended the notice period needed by a month. I know this as I got given notice to quit myself 2 weeks ago.

— Iain Houston (@Iain_Houston) May 17, 2020
I rented a flat about 10 years ago which had mould, gaps around doors etc. It was one of two flats from a converted house. After they refused to do anything for 4 months, I got the council to do an inspection where the owner of the letting agency turned up.
1/?

— Gogorovich yubarevski (@Elloboobs) May 18, 2020
Fucking same, and I got threatened with legal action for being in the apartment when the real estate agent got off his lazy ass and did it himself. Like fuck off, I live here and have homework to do, I'll damn well do it in my studio.

— stimky marsupial (@MintPossum) May 18, 2020
This made my day pic.twitter.com/fHarrdtnxZ

— Emperor Quarantine (@TeachSUFC) May 17, 2020
Landlord blamed us for damp when moving out despite us telling them about the problem 6 months previous AND their own contractor saying it was faulty roofing (2nd floor room). Unfortunately the landlord was also a solicitor who wasn't afraid to threaten taking me to court so… pic.twitter.com/A9zp6uY1VJ

— Ross Griffith (@Rossgriffith2) May 18, 2020
But perhaps no one is enjoying viral fame like Sandy himself:
2 million people have seen me in my fiancée's pants. Is *this* the new normal?!

— Sandy Batchelor (@sandybatchelor) May 17, 2020
Lol at the Daily Mail using the video and editing out the last 2 seconds. I've also reached the heady heights of the comments section which is a total riot. 🍌🍏🍐🍇🍑🥝🍅🥭🍐 pic.twitter.com/wwe2VX1N4L

— Sandy Batchelor (@sandybatchelor) May 19, 2020
And his mom. God Bless the Scottish people.
More terrible landlords: