4. Resse Hardy AKA 'Crying Dancer'
This TikTok user @Reesehardy_ uploaded a video of herself dancing while crying. Why? Self-expression. It is maybe the most teen video I have ever seen, expressing that particular sexual drama that comes with young love and access to Mariah Carey's discography:

It became a pretty popular meme for expressing deep grief:
Me on the dance floor with my friends at 2am when I really just want tacos and my bed.
https://t.co/HvIwCJe1h6

— Fraternity Gent (@fratinfl) July 23, 2019
Broke as shit but still agreeing to go out

— rob (@skinnysoymilk) July 23, 2019
when the pitch is accepted but now you have to write it https://t.co/gGOZymrxCP

— bradley babendir (@therealbradbabs) July 24, 2019
And Reese recently posted an update:

She's working some stuff out.
5. Smudge the Cat versus Taylor Armstrong
These are two memes brought together in perfect side by side photo format form.
These photos together is making me lose it pic.twitter.com/kJi9d8MpbG

— chey (@MISSINGEGIRL) May 1, 2019
According to the Daily Dot, the first image is a screenshot from The Real Housewives of Beverly Hills, in which Taylor Armstrong got into a pretty heated fight with Camille Grammar. The episode aired in 2011, but the picture has been used by people pretty frequently, because…well, look at it. Those are feelings and feelings can only be expressed through memes sometimes.
The second picture of a sour-faced puss became popular on Tumblr after it was posted by Tumblr user deadbeforedeath with the caption, "he no like vegetals."
The cat in the meme is named Smudge and he has a popular Instagram account where it is clear that he does not like vegetals:
The tweet from @MISSINGEGIRL is what really set the meme off and it became the perfect way to illustrate when one person has a lot to say and the other person is refusing to engage. Or just doesn't know what's going on.
— wiz (@lc28__) May 3, 2019
video games me, collecting
cause violence! bugs in
animal crossing pic.twitter.com/3seEii3C82

— rin | check pinned (@sexhomaru) August 6, 2019
Me explaining to ⠀ ⠀ ⠀My cat
my cat that I ⠀ ⠀ ⠀ ⠀pretending
won't tell anyone ⠀⠀ ⠀he cant speak
if he can speak pic.twitter.com/X7PHTuEXZ9

— 𝖕𝖆𝖇𝖑𝖎𝖙𝖔 💥 🌎 ☄️ (@PabloPiqasso) June 17, 2019
Smudge seems unaware of their viral fame, though the person who runs their account is taking full advantage of the "woman yelling" hashtag.
Taylor Armstrong is getting these kinds of comments on her Instagram, however: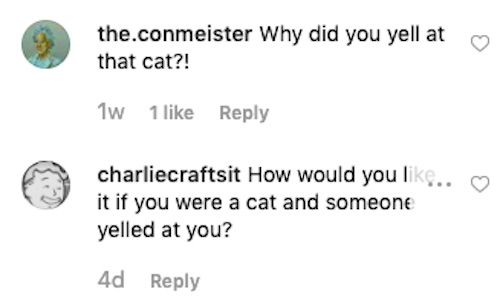 This is the dark side of becoming a meme.
More funny memes, pictures, and tweets: