The ability to leave scathing reviews has changed the landscape of small business ownership. You never know if the weirdo customer making your life miserable is going to log on and torch your good name on Yelp or Facebook or Amazon. On the other hand, on some of these platforms you can actually respond to these dirty reviewers and give your side of the story. That's what happened to a customer who had a bad experience at an eyeglasses store and decided to write a novel in cap locks about it.
A screenshot of the interaction was posted to the subreddit r/ChoosingBeggars by u/forthe_loveof_grapes, which is dedicated to mocking people who are ungrateful about getting free stuff.
A surprising number of people do this, and the reviewer was no exception. In it, they claim they went in to get new glasses and "no one helped" them make sure they were "making a right choice in a frame" for their needs.
"I picked a frame that was blinding because of the side arms," they wrote, "I tried driving and [thought] I was going to have a wreck I couldn't see out of them properly."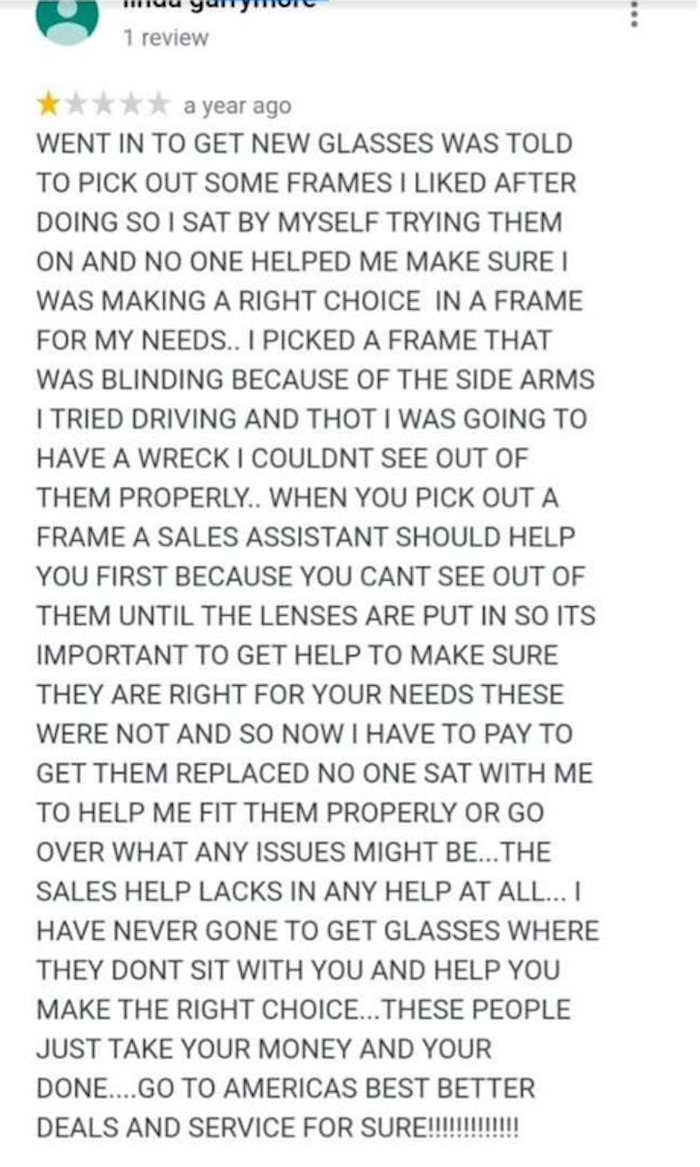 The owner, Dave, responded with a message, saying:
"Wow. You received a comprehensive Eye Exam for free. One pair of eyeglasses for free. And then another pair of eyeglasses for free. Totaling two pair of eyeglasses and the Eye Exam all for free. All of this at absolutely no cost. And instead of a Thank You, we get a scathing review?"
He said it almost made him question the store's 35-year policy of "giving back to the community." It's not clear what that means exactly, but I guess free exams and eyeglasses? Sounds like something people definitely need.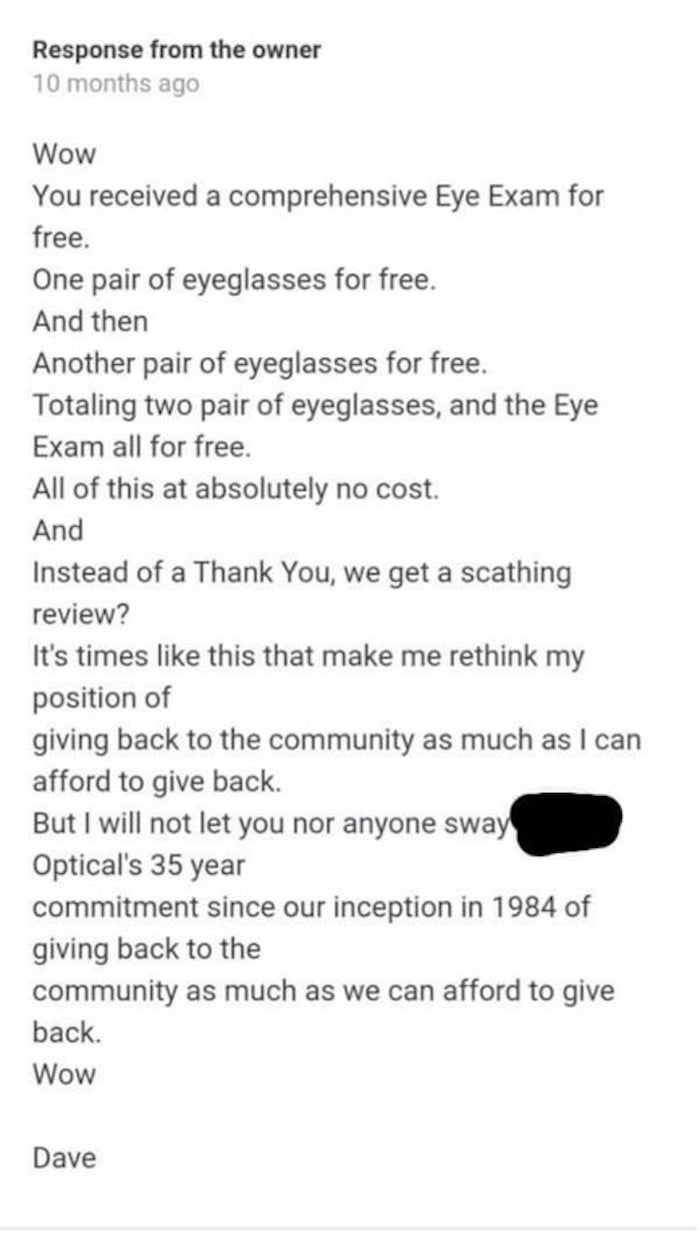 The responses to the reviewer are actually kind of varied. Some agreed that it is the job of an eyeglasses store to help people pick out the right frame and that for some, their vision is so impaired they could make a bad choice without that help. Others said that there's no way someone could choose something that completely impaired their peripheral vision without them knowing it.
I think it might be somewhere in the middle. There must have been a moment when the reviewer put the glasses on and walked to their car with the proper lenses in the frame. If you don't notice then that you can't see enough to drive, I don't know how a store employee can help.
Who do you think is right?
More of the worst and rudest Choosing Beggars: