Catching your partner cheating is an unfortunately common occurrence, and a lot of people find out in very mundane ways. Like finding a dating app on your partner's phone, for instance. That's exactly what happened to Redditor u/throwra5123 who posted her story on r/Relationships.
Except she doesn't think she's being cheated on, because her boyfriend gave her an excuse she believes.
It's not an excuse everyone believes, however, and it's become quite an argument on Reddit.
She says they've been together a year and living together through quarantine through the last three months. He started their relationship with a buzz cut, but during the lockdown, his hair has grown out.
As things have reopened he's been considering going to get a haircut. She asked if he was getting it buzzed again, and when he said yes, she suggested he just get a trim because she digs the locks. Then this happened:
A few days ago I went on to his phone to play Spotify and I notice that he had Tinder downloaded. I opened it up and saw that it was set up as a women's account set to swipe on men. It didn't look like he had messaged anyone yet. When I confronted him about it he told me that he created the account to look at men's haircuts. I asked him why he didn't just Google "men's haircuts" and he goes "When you search for 'men's haircuts' it's literally all just male models with undercuts. If you search for 'man in his 30s' it's just stock photos. Online dating is the easiest way to see pictures of few hundred real, random dudes in their 30s so I can find a picture to bring to the barber." When I asked about Facebook he goes "So I'm just going to get an identical haircut to one of my real life friends so I look like I'm Single White Femaling him?"

To me his reasoning sounded plausible but he's pretty smart and good at making logical arguments. When I told my best friend she goes "Do you really want to be one of those women who believes men's ridiculous excuses for cheating?" What do people think, could this actually be why he made a Tinder account?
Hoo boy. I don't know about this one. Why wouldn't he have talked to her about it if that's what he was doing? That's my biggest question.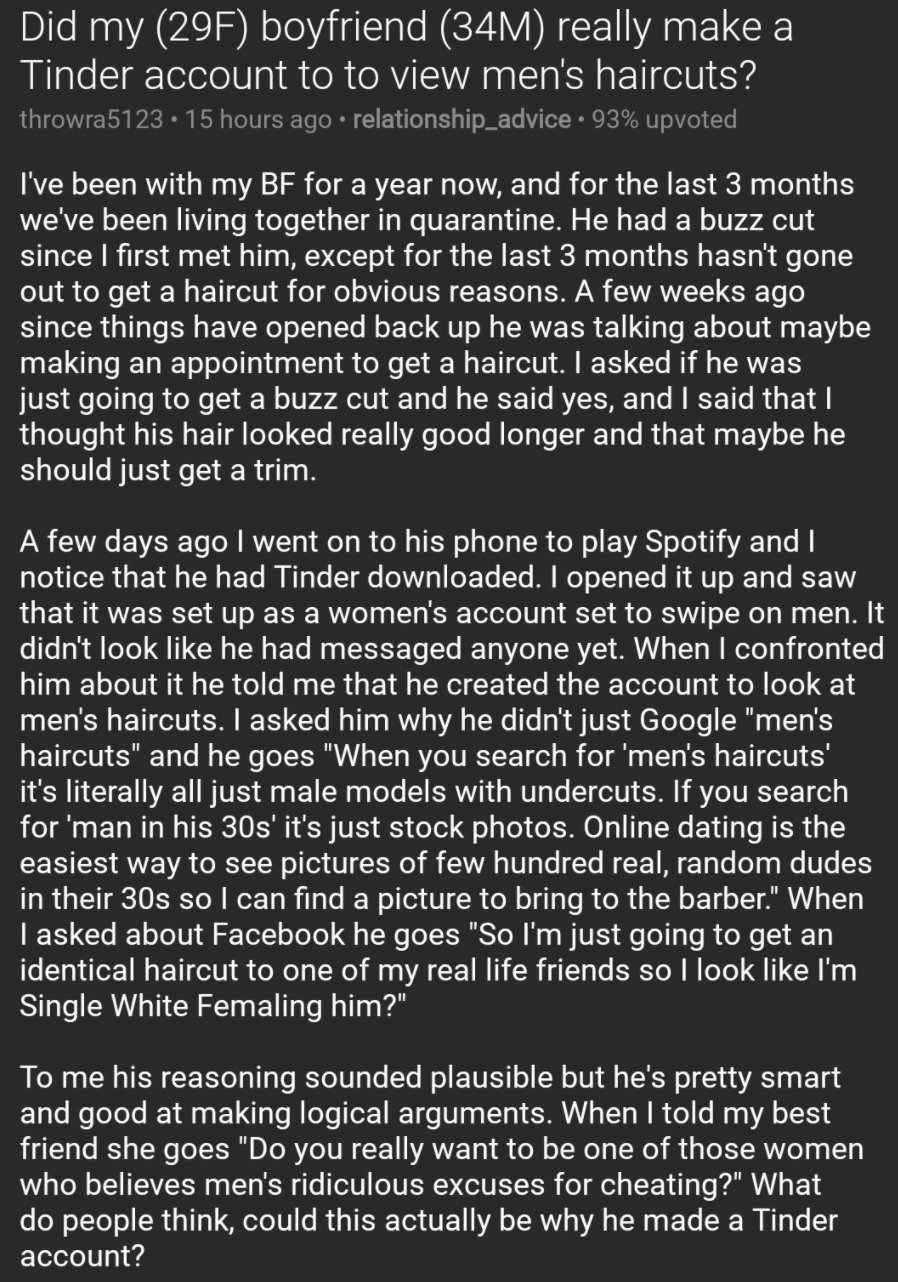 On the surface, it's actually not a bad idea. It also seems like something you'd talk to your S/O about, which is what a lot of commenters said.
But a surprising number of them actually believed the BF, because this is a common problem for guys, apparently. Some even said they would try it themselves:
It's worth it to also discuss how good of an idea this is. It's almost better than Pinterest. This is also a good measure of what's considered realistically fashionable at this exact moment. Not too fashionable, not too outdated. And easier to match hair type.

— Kayla Ancrum (@KaylaAncrum) June 23, 2020
Idk, it sounds weird enough to be true.

Since he was pretending to be a woman, he would be less likely to meet anyone who would be interested in having a relationship with him.

He probably should have said something before downloading a dating app though.

— Cthulhu is injured 🤕 (@cthulhu8books) June 22, 2020
I don't know why but I actually can believe this (assuming that she has no other reason to suspect anything, which I imagine she would have said). Probably due to a history of myself doing things in the dumbest most roundabout ways because it seemed like a good idea at the time.

— lingerie daddy 🍒 (@QueerandME) June 22, 2020
But there are a significant number of people who don't believe that anyone would have to do this to find good pictures of men's haircuts.
— I got 1/10 Virgils on it (@plastic_wings_) June 22, 2020
They even suggested how she could test the premise by digging deeper:
Ultimately, relationships are about trust. If the OP can't let this go and trust her boyfriend isn't doing some weird catfish sneak around sex thing, they can't be together. But it's also his job to maintain trust—starting a Tinder account ain't it.
More best and worst of r/relationships: