Since the COVID-19 outbreak, people have had a hard time understanding the "dead" part of "deadly pandemic." One of America's biggest struggles at the moment is getting its own leadership and population to agree on a way to handle the pandemic.
Guess what, we can't do it.
Instead of providing its citizens with the resources they need to be safe and staying home whenever possible, the federal government and American people, respectively, have said "No thanks, we'll pass." The United States is currently leading the world in confirmed COVID-19 deaths and experts say Americans' refusal to stay home during Thanksgiving will likely result in an explosion of cases.
All this is to say: it is not good to ignore a pandemic.
TikTok user Emily Parker didn't get this memo. Two days ago, she uploaded a video where she tricked her friend into going out for the night… in a bathrobe.
And honestly, that's objectively funny – a person in their PJs out on the town like nbd. Except, remember, WE ARE IN A PANDEMIC!
And if you look in the video, there are MANY people NOT WEARING MASKS.
Again—WE ARE IN A PANDEMIC!
The woman in the video got a lot of positive comments for being a trooper.
People loved her so much that Parker made a separate video dedicated to her friend.
However, a lot of people expressed disappointment in going to a bar during COVID-19.


One person we're assuming is not a United States citizen summed up what it's like to live in America during a pandemic.

Someone pointed out how many people at the bar were not wearing masks.

And a few others straight up shamed her for going to a bar when the COVID-19 infection rate is the highest it has been since the pandemic began.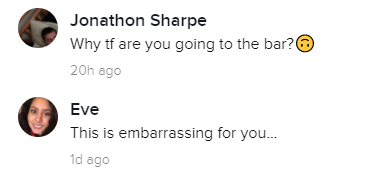 Anyway, stay at home. It's getting bad out there.
More from TikTok: