There's a lot to worry about when parenting a small child, but if you're worried about people giving them a popular and obvious nickname based on the name you gave them, you're kind of setting yourself up for more stress than you need. That seems to be the case for this anonymous mom who wrote into a radio station and whose question got screengrabbed by u/Wils53 for Reddit's r/InsaneParents.
It begins, "I love my 7-year-old's name, "Andrew," but I hate the nickname "Andy." When we named him Andrew we agreed to only use the long version and never the nickname… We moved over the summer, and somehow he has become "Andy" in his new school!
"I made an appointment with the teacher to discuss the situation. She apologized and said that she would call him Andrew. She said she would make one class announcement."
It continued, "As you can imagine, this has been totally ineffective. All the kids are still calling him Andy. I made another appointment with the teacher, but she was not helpful. She said that Andrew never objects to being called Andy and sometimes even introduces himself as Andy. To me, this is irrelevant. He is 7 years old, I am his mother, and I get to decide what people call him. She is not willing to correct the other students in the moment when they call him Andy. I would to take this matter to the principal. My husband feels like I'm overreacting… If we don't get this under control now, he will be "Andy" for the rest of his life!"
Aw. Poor Little Andy. And poor principal, who is definitely going to be sitting through a pointless meeting with this woman in the near future.
It probably does suck to watch a situation get away from you like a runaway train, especially when it involves your kid. But if Andrew is introducing himself as Andy at the age of seven, it's not going to get any easier to control him as he ages. Moms may feel a strong proprietary interest in what they name their children, but that name often doesn't stick—because kids are people, not property!
The comments are full stories of similar situations, which is baffling to me: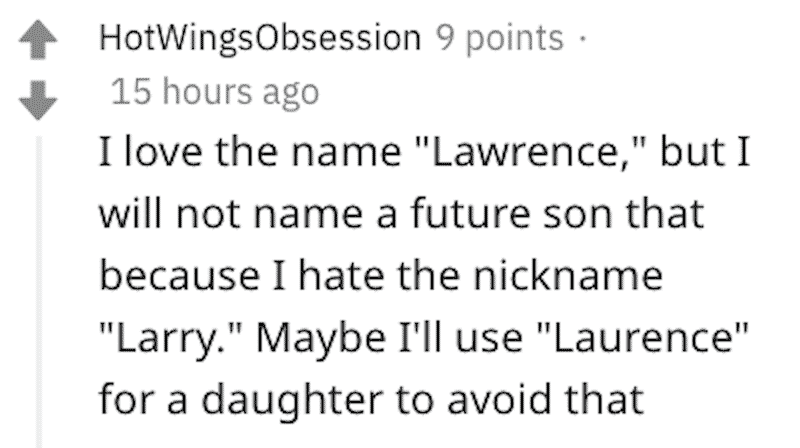 Why set yourself up for failure? If you detest the name Sam, don't name your kid Samuel. If you hate Andy, don't name your precious son Andrew. Life is hard enough as it is.
More Reddit confessions and controversies: