The restaurant business is high pressure, expensive, and full of people demanding the world on a plate. It makes sense that most restaurant owners are always one email away from losing their sh—t on someone. This email exchange between restauranteur Attila Yilmaz of PAZAR food collective in Australia.
Yilmaz recently posted screenshots of the emails between himself and a potential customer on Instagram. It started when the anonymous patron asked, "I have an incredibly restricted diet, my friends are booking a table and I believe there will be 7 or more people. I think it would be best if I eat before and just drink at the restaurant as there isn't anything on your menu suitable for my restrictions. Can I just sit there and drink or you can only sit at the table if you are dining?"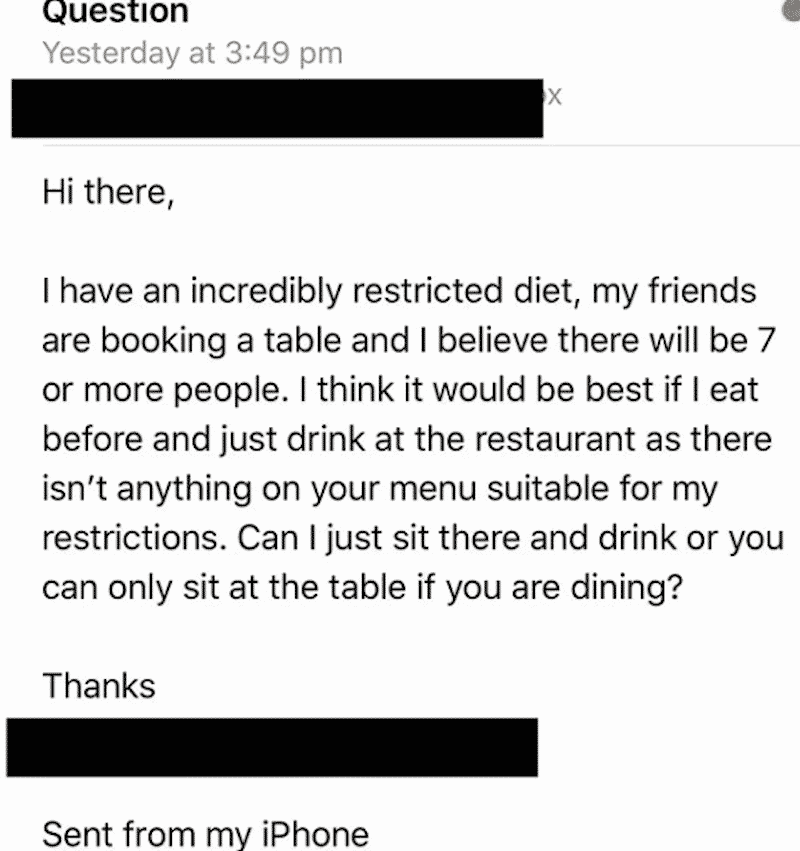 Okay, the only thing I think is weird about this question is that they asked. So many people show up to restaurants without checking ahead if they can be accommodated, so this is actually kind of polite. But on PAZAR's website, it reads, "Reservations of 7 guests or more will dine from PAZAR's Collective Feast menu, an 8 course shared menu priced at $68 per person."
That probably means what this person really wants is to not pay. Maybe they really can't eat anything off the menu, but if that's the case, then this isn't the right place to go!
Yilmaz responded, "Thank you for your email. Our liquor licence [SIC] and only covers us for dining customers. All seats occupied by guest of a large group are required to participate in the collective feast. We can accomodate[SIC] to most needs with notice but can not come up with 8 courses for very special needs."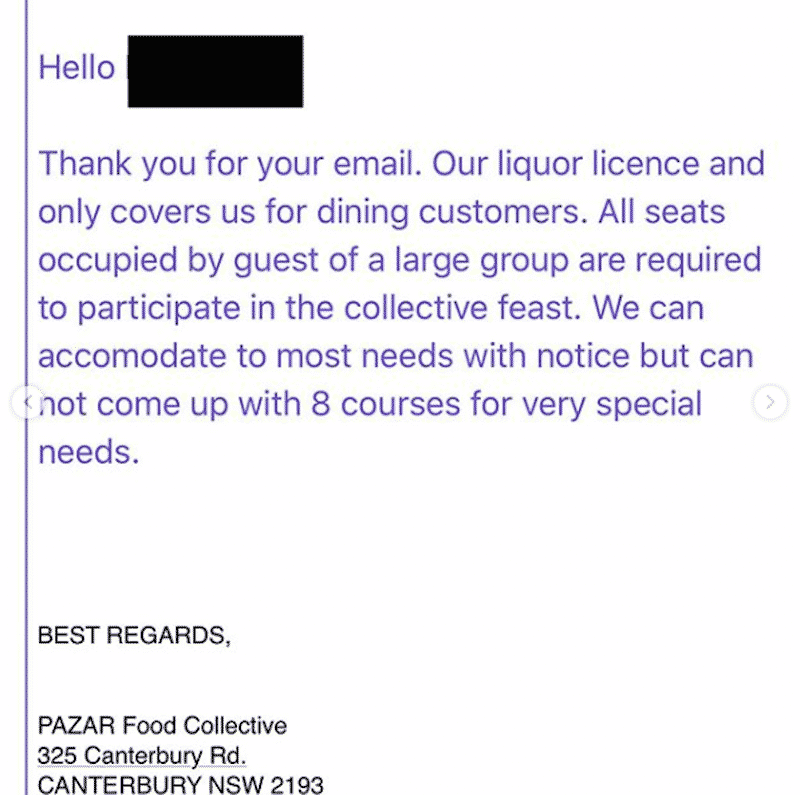 The license thing is probably bullsh—t, though maybe things are different in Australia. More like, Yilmaz doesn't want people to think they can come to a family-style eight-course meal and not pay anything and take up tables at his restaurant. If he starts with one person, who knows where it will end?
The customer decided the party would go elsewhere UNLESS the kitchen could provide them with a "lean steak and sweet potato with leaf and sheep's milk feta or goats cheese salad and charge appropriately not a feast $68 price." Oh boy.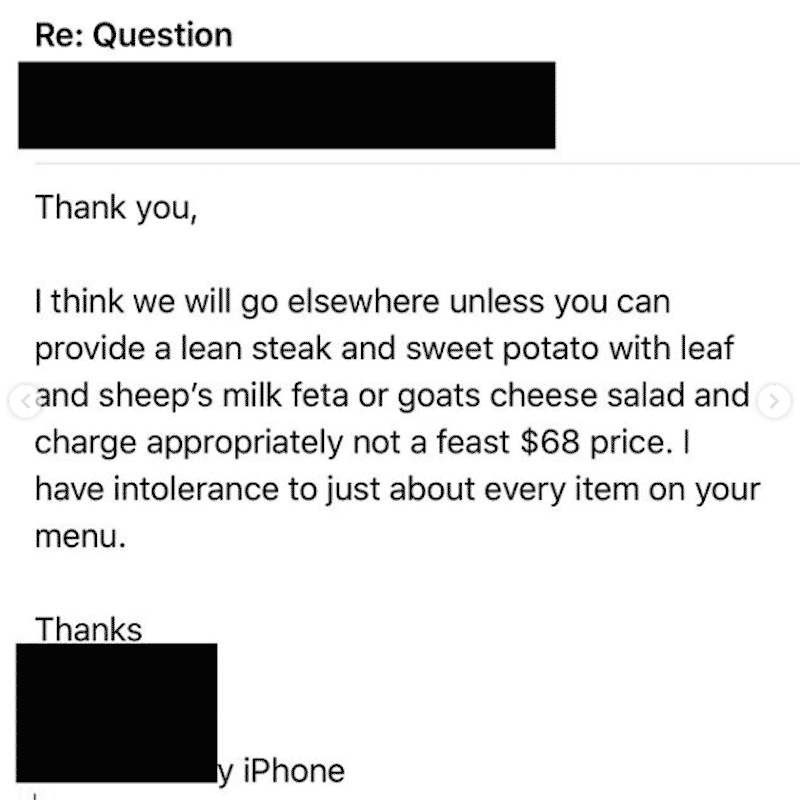 Yilmaz asked them to clarify, responding, "You want to come to our restaurant, don't like our menu and hence want to create your own menu and want us to cook that for you at a price you determine is fair? Could you please tell me what cut of meat you would like and what you would like to pay for your dinner?"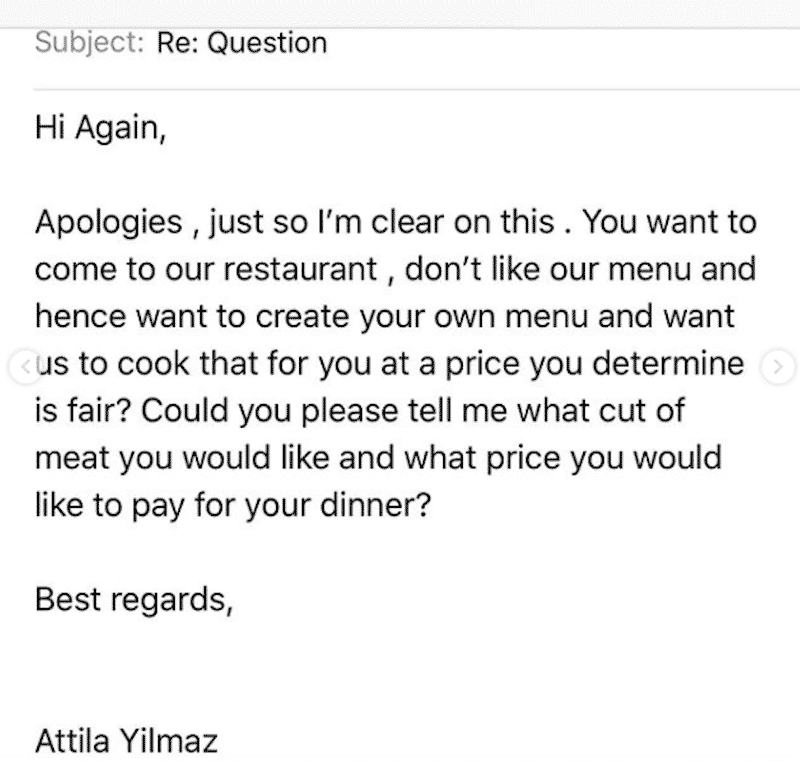 At this point, the customer said they were "sensing a little bit of sarcasm." They wrote the group would go elsewhere, which probably should have happened after the very first email.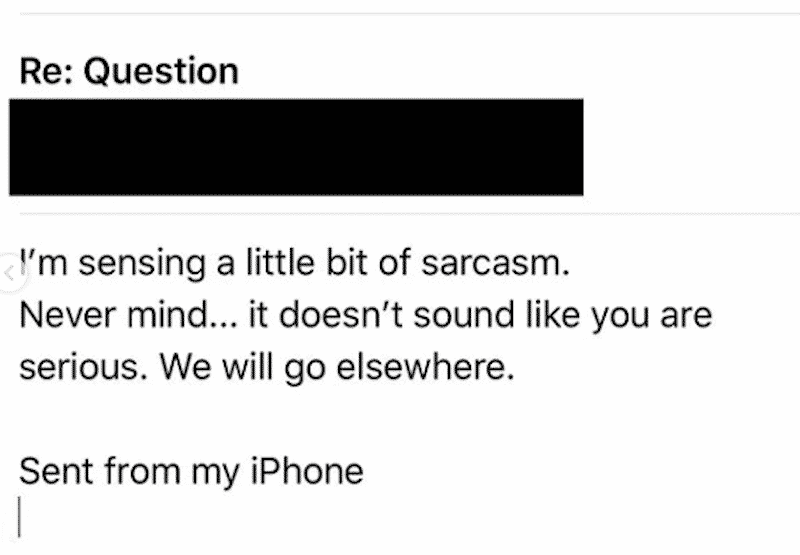 Yilmaz probably should have dropped it at this point as well, but instead went on a long rant comparing a restaurant's menu to a concert: you wouldn't go see a specific band and demand they play different songs more to your taste.
While his frustration is understandable, I think it should be said here that some people do have very real allergies and intolerances that make eating out a terrible experience, but it's still a social thing a lot of folks do. It can be hard to opt-out of every gathering and finding a restaurant that will make you buttered rice noodles or whatever is nice. But PAZAR is obviously not that kind of place.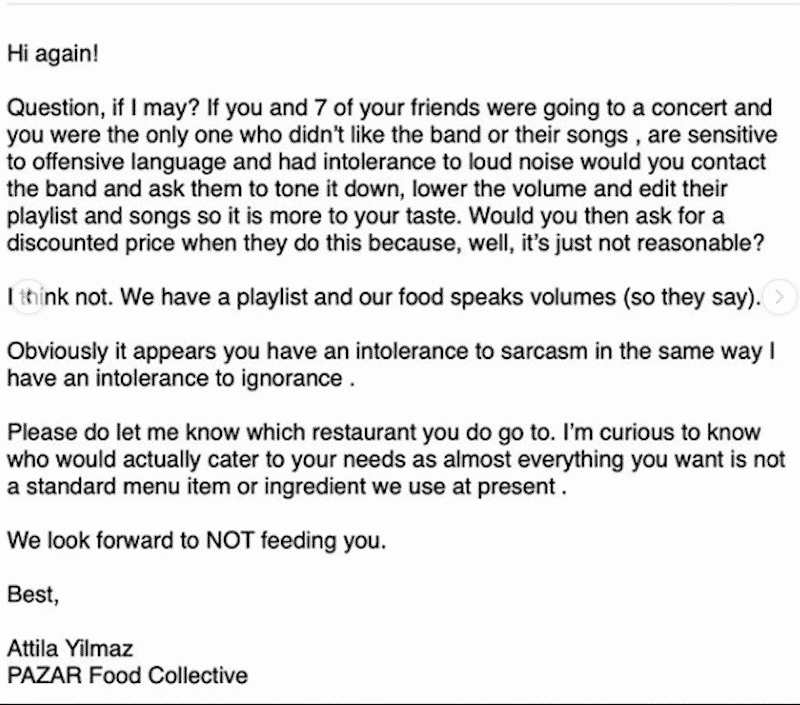 The response to this was the customer saying they actually work for a caterer. TWIST!
Which led to even more of a diatribe from Yilmaz, of course: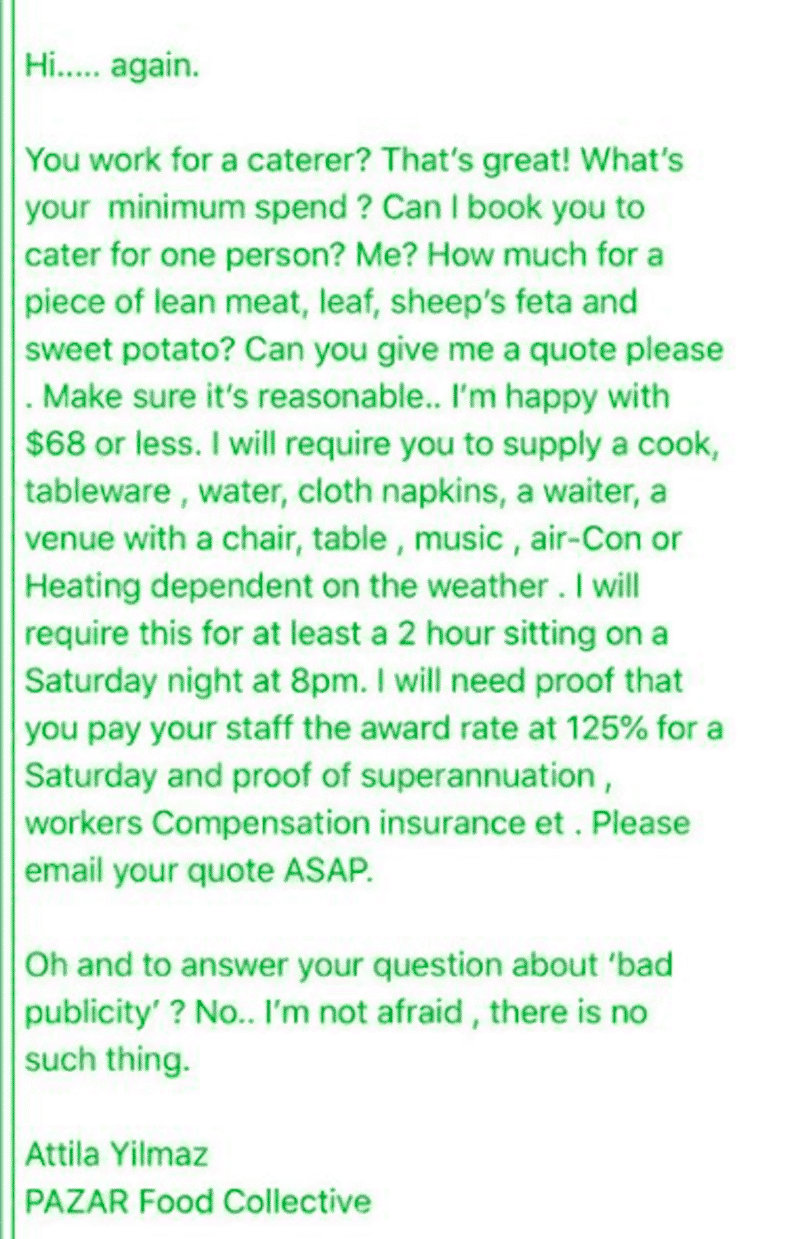 And this final send-off:
It's not crazy to ask if a restaurant can help you out when you have a special diet, but check on how they serve their food. If there's a minimum price to sitting at one of their tables, you better believe they're gonna expect you to pay it.
More choosing beggars: