Have you ever been in a restaurant on your birthday when the servers come out and half-heartedly sing to you and present you with a sundae glass filled with mostly whipped cream? Then you know that birthdays often mean free food at many restaurants. But what if you decided that you were going to keep a spreadsheet of all the restaurants offering free food for your birthday, lie about how it was your birthday every day, and then get free food every day?
That's what TikToker Noah Wille decided to do—and now his "technique" for getting free food at restaurants is going viral. Is it the nicest thing to do? Not really. But folks are praising the 19-year-old for his craftiness.
"Okay, life hack that is also kind of terrible," Noah says in the video. "Once upon a time, I made this fake email account that I still use. I get free food or dessert from a restaurant every single day."
"I made this fake email and I found a list of a bunch of restaurants that offered birthday freebies," he explains. "So I put them all in here, and I put my birthday on each website for a different day of the year. So I have 365 days of free food."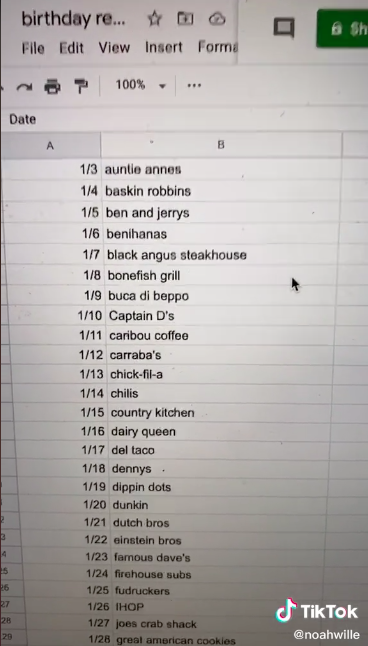 "Tomorrow I have a free meal from Benihana's," he said. "I really hope I'm not the only person who is crazy enough to do this."
Noah told Buzzfeed he started the painstaking process of compiling the list when he moved to Los Angeles.
"A few years ago when I was in high school, I had started my own nonprofit organization to help the homeless community in central Iowa," Noah told BuzzFeed. "We would fundraise tons of money and put together care packages to help them out for a few weeks. About two months ago, I moved out to LA without the support of my parents and ended up finding myself in a similar spot to many of the people I usually helped out with — lacking food security."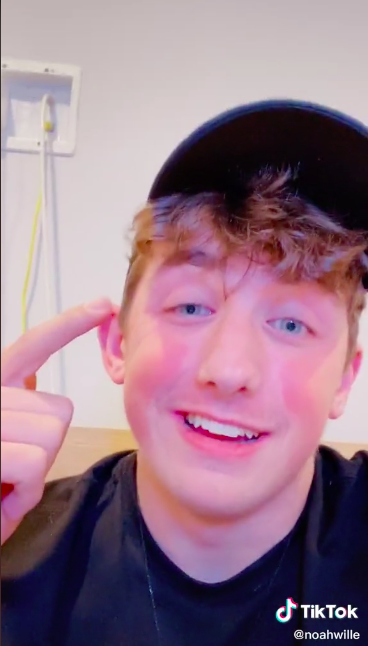 "So one day, I woke up and the birthday scheme popped into my head. In total, I would say the spreadsheet took me about three weeks to make and sign up for everything, but in the end, the effort has been totally worth it."
More from TikTok: