The most dangerous food is wedding cake. — James Thurber
The part of the wedding where the couple stands in front of their cake awkwardly and then maybe attempts to feed it to each other is definitely my least favorite.
The cake is delicious, just sit down and eat it!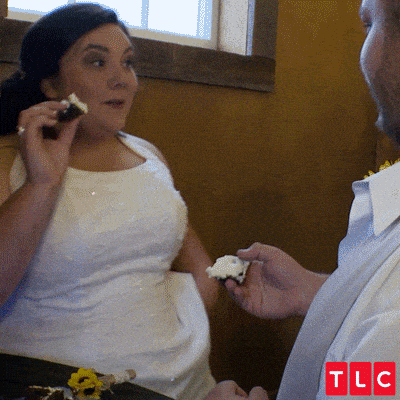 Some couples get cute and maybe smear some icing on each others' noses, but have you ever been at a wedding where the groom literally throws three tiers of cake at his new wife?
A viral TikTok is going around in which a groom tosses wedding cake at his new bride—and folks are seeing red flags.
Bride Kelsey Caron, from Kingston in Tennessee (known as @kelsboyd3 on TikTok) shared the footage in which she can be seen playfully putting some frosting on her husband Tony's face.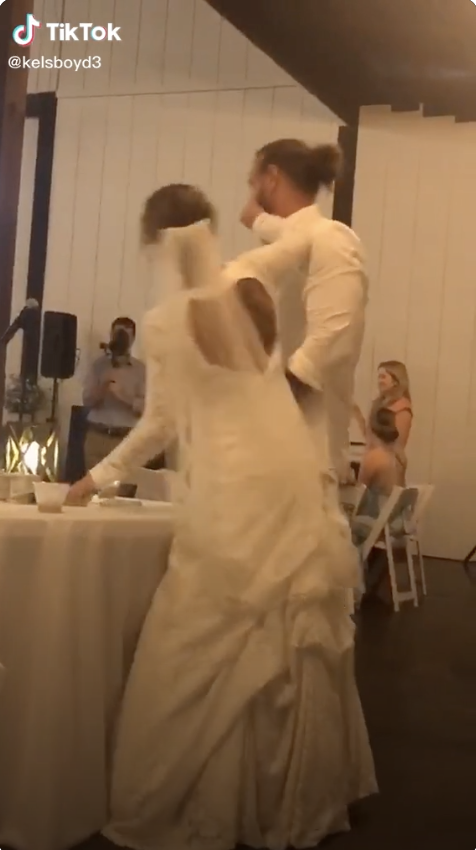 But Tony did not respond in kind—he picked up the whole cake and just threw it at her like it was a hot potato.
He doesn't look mad while he's doing it, but damn, I felt uncomfortable watching that play out.
Kelsey even falls into nearby chairs, the force was so hard.
I'm really not a fan of any man chucking an entire cake at his partner, no matter the reason.
The whole thing feels creepy like he's smiling but possibly seething with rage underneath? And the poor bride! The cake, ruined. Her dress, covered in icing. Not cool.
Folks in the comments section were similarly worried, with one person saying:
"That's not just aggressive but so embarrassing??? If he's comfortable doing that in front of all her friends and fam…scary."
Another went on to comment:
"The bride is in 'denial' if she thinks this is OK"
While others observed:
"That looked like it hurt. He went way too far. If he did this in front of people what does he do behind closed doors?"

"Apparently everyone on here is a therapist now, just because y'all are single and mad doesn't mean you have to come for her and her marriage"

"Wow, y'all shouldn't ever get into a relationship if you are this sensitive"
I guess they could just be extreme practical jokers, but maybe a wedding isn't the best time to pull a prank like that?
Before comments for the video were disabled, one final take that may actually be correct:
"Guys, he was cracking up at the end he wasn't even mad"
You May Also Like:
Lead image: TikTok