There's nothing better than a big sandwich after an evening of drinking.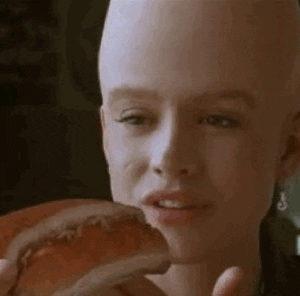 When I first moved to New York City, I used to order these massive sandwiches from a 24-hour bodega after a night out. They were gargantuan, overflowing with meats and cheeses and fixings and all kinds of sauces, and were named after famous people. Then my friends and I would eat them while watching The Golden Girls.
Anyway, a woman got drunk and ordered a sandwich from Subway—and wow, that sandwich is SAD. Apparently, her order so amused the sandwich maker that he had to take a picture. And then she took a picture of him taking a picture of her sandwich!
Then she tweeted about it, and the tweet has now gone viral.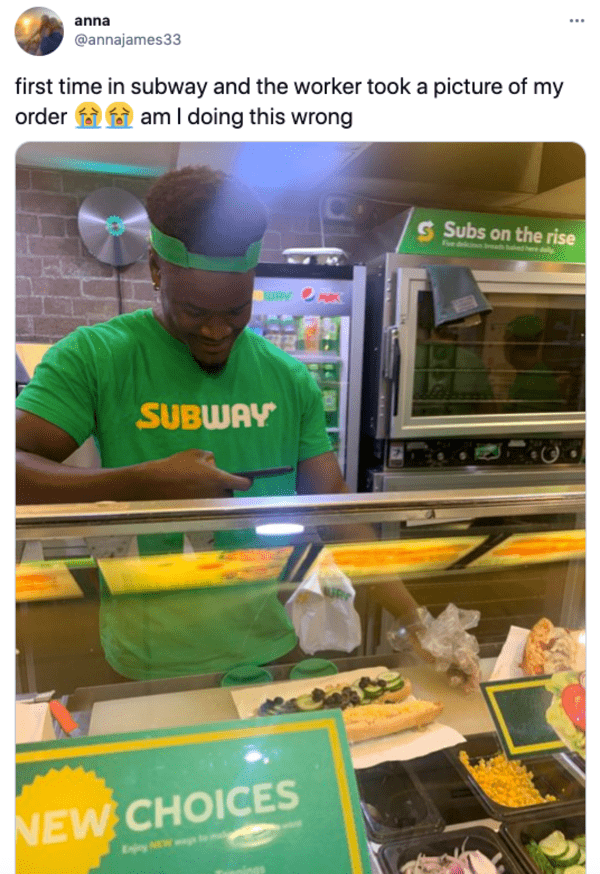 This is the sandwich. It consists of shredded cheese, olives, and cucumbers.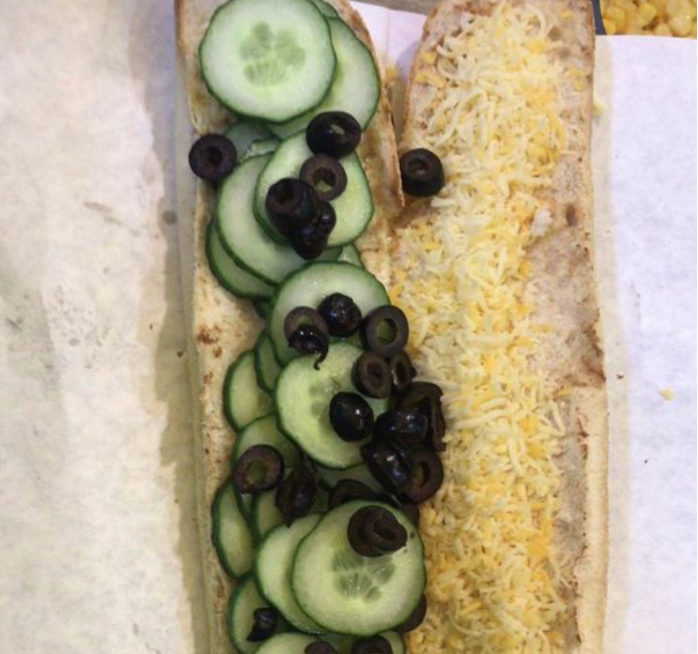 People are upset about this sandwich.
Jesus Christ Anna who does order a subway like that??

— Emily James (@EmJames97) August 31, 2019
I can probably, think of literally 1000 sandwiches that beat this right now? The first one being just butter. Just bread and butter beats cheese and cucumber. 😂

— Button (@JRBurt0n) September 2, 2019
This the worst sandwich I've ever seen 💀

— Oluwa 2x 🇳🇬 (@Sam_Dos_Tiempos) September 2, 2019
Sorry but I don't blame him for taking that picture shocking excuse of a sandwich

— Ellouíse (@coupdepressed) September 2, 2019

The woman clarified that when she ordered the sandwich, she was drunk. She also said she is a vegetarian.
hi my mentions are crazy so to clarify:
• I was drunk
• there's no meat because I'm a veggie
• no, I would not like to go to subway with you

— anna 🐱 (@annajames33) September 2, 2019
I'm not sure how that excuses her sandwich choices, but to each his own!
What do you think? Is this sandwich an insult or would you take a bite after a night out?
More funny tweets, memes, and pictures: