It's well-known that Hugh Jackman and Ryan Reynolds share a friendship that often involves trolling each other. The latest? This week, Jackman is celebrating his 52nd birthday—and Reynolds decided to wish him a very special day with characteristic humor.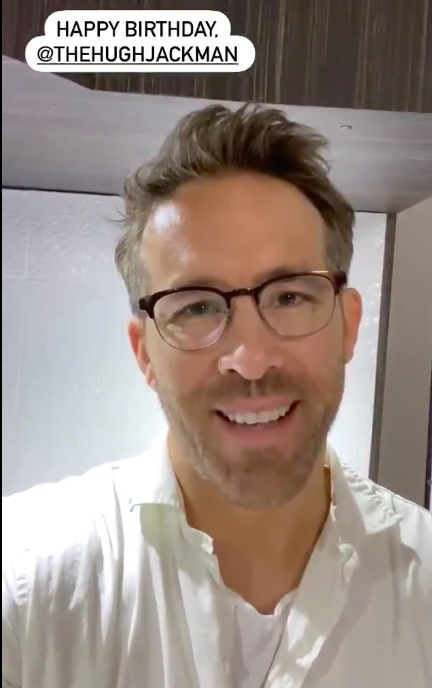 "You may notice it's a little quiet around the house this morning. That's because I flew Deb and the kids and the dogs, and your friends and furniture down here to celebrate your birthday with me. And we're having an amazing time. And, um, we miss you," Reynolds said, referring to Jackman's wife and family.
Jackman later posted a video of himself enjoying some food on his birthday somewhere near the Brooklyn Bridge.
Much like Reynolds enjoys trolling his wife Blake Lively (and vice versa), he and Jackman have a history of poking fun at each other. Remember the Ugly Sweater Incident?
"These a**holes told me it was a sweater party," Reynolds tweeted, including a picture of himself with Jackman and Jake Gyllenhaal. Reynolds is the only one wearing an ugly sweater. And it's a very ugly sweater, the ugliest sweater to outdo them all.
These assholes told me it was a sweater party. @RealHughJackman #JakeGyllenhaal pic.twitter.com/qGLa2a2o0Z

— Ryan Reynolds (@VancityReynolds) December 21, 2018
And back in April, Reynolds wrote a caustic message to Jackman's wife, Deb on her and Jackman's 24th Anniversary. Jackman posted a picture of himself and Deb to his Instagram with a touching message: "These 24 years have been the best of my life! And, as far as I can see, we keep getting better. I love you Debs with every fiber of my soul. Happy anniversary. #24."
Reynolds' comment?
"Hang in there, Deb."
Hey, they say a good sense of humor is vital for a strong friendship.
More Ryan Reynolds/Hugh Jackman trolling: