Influencers going too far is pretty common—"do it for the 'gram" has been a catchphrase since Instagram influencers were born.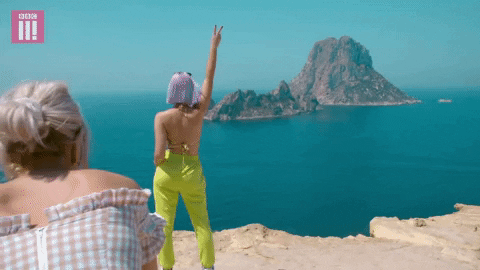 There have been several instances of influencers taking a step (or 3,000) too far, including some who have lost their lives in an attempt to get the perfect image.
The whole subculture is really something else.
This year brought us a whole new crop of influencers who went too far and we want to give them the honor they deserve.
---
1. Influencer delays flight to eat oysters
Ruby Tuesday Matthews was traveling when there was a two-hour delay on her flight. Staff asked passengers to stay in the airport while the issue was fixed. Matthews didn't listen and went to a restaurant to get oysters. The engineer arrived early and because Matthews was off-premises, Jetstar had to track her down, causing the flight to further delay.
When she walked on the plane, she was met with fellow passengers mocking her.
2. Steph Elswood apologizes for taking a selfie with penguins having sex
For all the apologies public figures have had to make this year, we did not expect this to be one. Wellness influencer Steph Elswood posted a picture of her in front of two penguins at Boulders Beach Penguin Colony. Adorable!
In the caption, she admitted she didn't notice them getting busy, making it pretty funny. What upset people was how close she was to the animals. Apparently, penguins often get stressed by tourists. Elswood took the feedback to heart, saying she felt guilty for contributing to their stress.
3. Influencer licks toilet, catches COVID-19
WTF!! Really!! Licking toilets now!! pic.twitter.com/C2iaRHxHHa

— Gabe Slaybaugh (@GabrielSlaybau1) March 23, 2020

We've witnessed a lot of wild behavior since COVID-19 broke out globally. This one may take the cake, however.
An influencer named Larz thought it would be cute to participate in #CoronavirusChallenge. Less of a challenge and more biological warfare, people were licking items in public areas. Play stupid games, win stupid prizes.
4. Influencer films herself eating live seafood
Ssoyoung is a popular creator in South Korea who specializes in mukbang and ASMR videos. Part of those videos include her eating seafood, and that seafood is not always dead. People called Ssoyoung out for animal cruelty, pointing toward YouTube's rules that prohibit animal cruelty. The platform, however, says the videos are within the guidelines.
5. Influencers who tried to get free food during a pandemic
A chef put influencers on blast for trying to get free food out of his business. Like many businesses, Miann was affected by the COVID-19 pandemic and struggled financially. When it came time to reopen, Chef Brian Campbell received multiple requests from influencers asking for free food in exchange for promotion. It got so bad he called them out via Instagram.
6. YouTubers "rehome" autistic son they adopted
Whew, this one is too too far. YouTuber Myka Stauffer has made money off her kids, including son Huxley, who was adopted from China in 2017. Myka and her husband frequently posted about Huxley and shared his autism diagnosis with their followers. Then people noticed Huxley was absent.
Myka uploaded a video titled "An update on our family," where she said they had found another home for Huxley because the family couldn't meet his needs. That alone is questionable. Add in the fact they used Huxley to gain money and it's downright reprehensible.
7. Influencer takes booty pics in front of looted store
The "take me back pose " hahahahahaha pic.twitter.com/60oeR7XrhH

— Joe on the Go (@JoeyND1023) June 2, 2020

This past June, George Floyd's senseless murder triggered protests and riots throughout the United States, with other countries standing in solidarity with the Black Lives Matter movement. It was a very somber, serious time for America. A note this influencer who took booty shots in front of a burned-out T-Mobile did not get. Naturally, she was dragged by Twitter.
8. Influencer interrupts man boarding up store for a photo
This lady stopped someone boarding up a store in Santa Monica so she could hold the drill for a picture, then drove away. Please don't do this. #santamonicaprotest #BlackLivesMatter #BlackLivesMatterLA pic.twitter.com/lgt2rZogk9

— blank (@efortheloss) June 1, 2020

Noticing a trend? Another influencer wanted to use the country's racial tensions for clout and actually interrupted a man boarding up his store to get a picture. Not just a picture, but one where she is holding the gun, standing in his place. See, it's fun when you don't have to worry about your personal property!
9. Influencer has a meltdown over having to quarantine in Rwanda
*SERIOUS* Charly Jordan says she tested positive for COVID while traveling to Rwanda and has been forcefully removed from hotel by government and placed in to isolation away from everyone she knows. She first had COVID 3 months ago. She lives with Tana Mongeau. More in thread. pic.twitter.com/x3hxZlVhkb

— Def Noodles (@defnoodles) September 6, 2020

Influencer Charly Jordan flew to Rwanda and tested positive for COVID-19 when she landed. Unlike *other countries*, the Rwandan government handled the situation appropriately and placed her in quarantine. Jordan then had an hours-long meltdown over the situation, which she uploaded to TikTok.
10. Influencer uses wildfires to promote her website
Self-promotion is great and all – we need to make a living, you know. But using deadly wildfires as an AeStHeTiC crosses the line. Influencer Colette found this out when she posed in a bright orange dress and used the orange haze caused by the wildfires as her backdrop. In the caption, she pushed people to her website. Not the right strategy, Colette!!
11. Influencer makes bikini out of surgical masks
Pre-COVID-19. this wouldn't have been a controversy at all. But welcome to 2020. Russian influencer Yulia Ushakova created a bikini out of personal protective equipment. She posted a photo of her in the bikini to Instagram and added this caption:
"I ordered a new trend of the swimming season 2020. The built-in valves make it easier to breathe, but the set needs to be changed every two hours! I don't know if this challenge is already on Instagram, but I like the idea!"
The image was posted right as the COVID-19 outbreak began to spread and PPE was scarce for health professionals and at-risk individuals.
12. Influencer posts pregnancy pictures on OnlyFans
Instagram model London Goheen announced her pregnancy this year and followers are upset because she's using OnlyFans to monetize her bump. A monthly OnlyFans subscription to her page costs $9.99. Her reasoning is because of online bullying — she wanted to take the pregnancy somewhere more "happy and healthy." Yeah, cash makes me happy too.
More high-quality links you may or may not like: