The battle between men and women on Twitter is being driven to new heights with a very strong entry from Twitter user @roblesteonna, who shared a series of screenshots from a guy she says she's been seeing casually and apparently buying lots of dinners for.
On a day she told him she couldn't afford to take him to Red Lobster, he appeared to go full Spongebob Nutspants.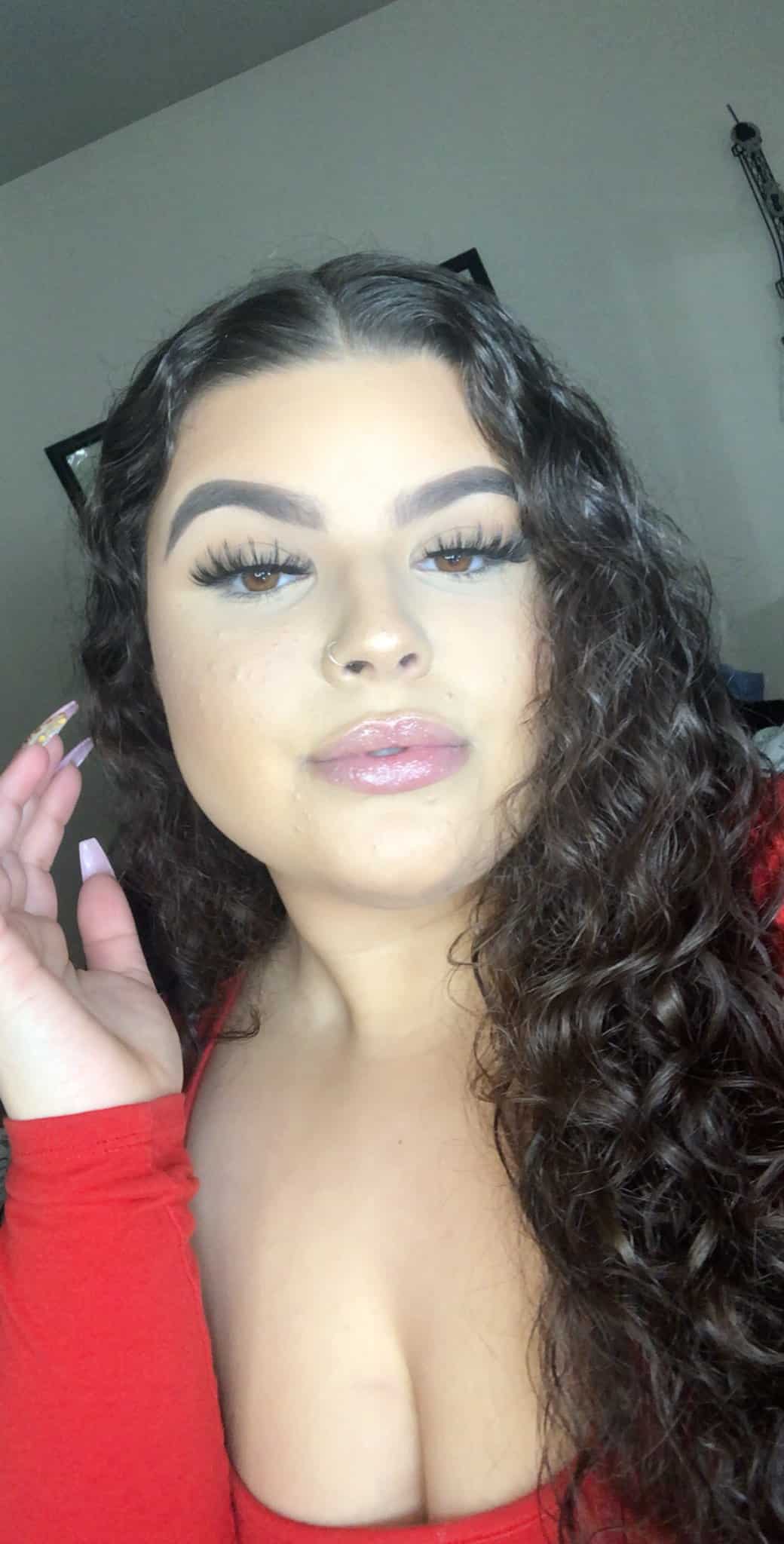 "DO YALL SEE HOW DISRESPECTFUL N****S ARE," writes Teonna. "IVE DONE NOTHING BUT DO EVERYTHING FOR THIS MAN. HELPED HIM GET BUSINESS AND TAKE HIM FOOD OR WHATEVER HE NEEDS WHEN HES STRUGGLING AND BECAUSE I CANT THIS TIME THIS IS HOW HE COMES AT ME."
For what it's worth, there is some controversy surrounding these tweets because she used the N-word. She has said she is mixed, and everyone needs to step off, but we would be remiss if we didn't relate all The Facts.
At any rate, after Teonna offered to cook for this guy, he went off on her, sending a series of texts that got more and more insulting and deranged as she ceased responding.
After he told her not ever ask him what he wanted to eat then offer something else again, she responded by saying she didn't like how he was talking to her. She warned that if he kept it up, he'd be losing her company.
"Nah I'm koo. You heard what I said," he started, just warming up. It continued:
Don't try play a position you not fit for then. You're clearly not on my level and can't afford to support a man of my caliber.

Any woman who would expect a king to lower his standards just because it's coming from her is delusional. My quality of life will not decrease because you want me to be grateful for less than I deserve as hard as I work. you saying that you're not my bitch like that's not your intention is funny. You can't handle the top position so don't apply for the job. Stay moping floors.
By "stay moping floors" he must have meant "stay not buying me dinner."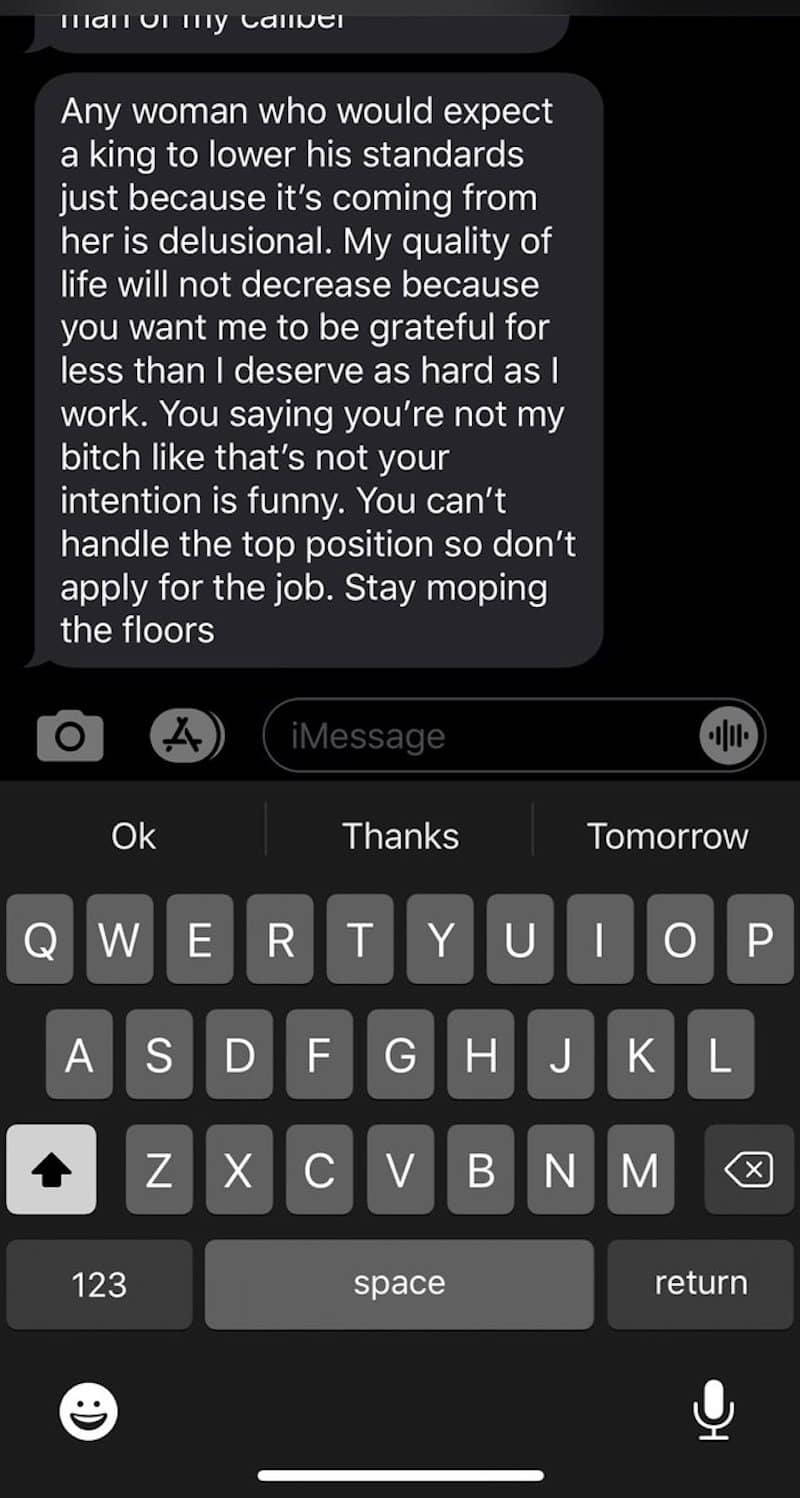 It went on:
I know you're not financially stable. You don't have your own sh-t. Your not where I'm at physically mentally spiritually or financially. So how does it suck for me to lose someone who is far from on my level. Explain that. You can't even get me a $50 meal. But asked me what I wanted.

You think I haven't had women grab me red lobster before? You want to be the one that's close to me but you're right you're not the one for me. Idk why you try if you know you're not in my league. You're delusional.
SHE is delusional?
Find a man that's where you're at.

That's why we are friends

Because I know you're not my type. You have to qualify to be with a man that does as much as me. Let me tell you I know I deserve to eat red lobster. I ate it 4 times a week last year.

That's exactly why your not my b-tch. You cant be my b-tch you're broke. Get a new job then come holla at me. Can't even afford a f—in meal.
What a wild ride. The tweets went massively viral and Teonna ended up clarifying some stuff in the comments for people (including her race) and said they weren't hooking up, but she's a caring person and wanted to help him.
She says he is broke and often complaining about it and she tried to listen and help when she can. She realizes now that there were a lot of red flags in the situation, but we all have our weak moments:
Special treatment. I was able to get him the food he wanted but didn't want to cause I was already trying to back off from him cause he's done a couple things I wasn't very happy about. I have my own shit taken care of & im good.

— Teonna💋 (@RoblesTeonna) January 6, 2020
We weren't even hooking up. Naturally i take care of people, I love & care deeply for the people in my life and I always go above and beyond wether he's my boyfriend or it's one of my friends. Have a good heart DOESNT mean I deserved this so stop saying I deserved this Bc I was

— Teonna💋 (@RoblesTeonna) January 6, 2020
Let me also add. I know my worth, I know I'm a good ass woman and some day the energy i give will be reciprocated. We all have our weak moments or our blinds spot that doesn't make me stupid. I'm human.

— Teonna💋 (@RoblesTeonna) January 6, 2020
Part of the reason the tweet got so popular is that even Chrissy Teigen commented on it, suggesting the man has lobster brain from mercury poisoning:
this man had red lobster 4 days a week for a year. he has mercury poisoning

— christine teigen (@chrissyteigen) January 6, 2020
Teonna also posted "his side" of the story, which he appears to have written out in a Facebook post. It…certainly doesn't do him any favors.
Y'all wanna know his side. pic.twitter.com/aA3w3CJXeb

— Teonna💋 (@RoblesTeonna) January 6, 2020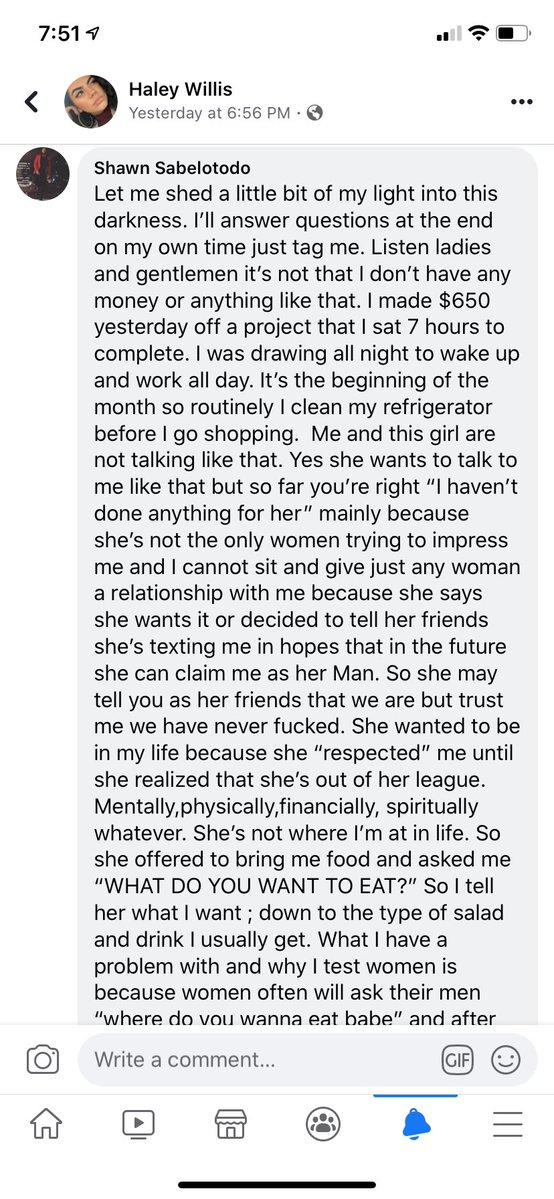 \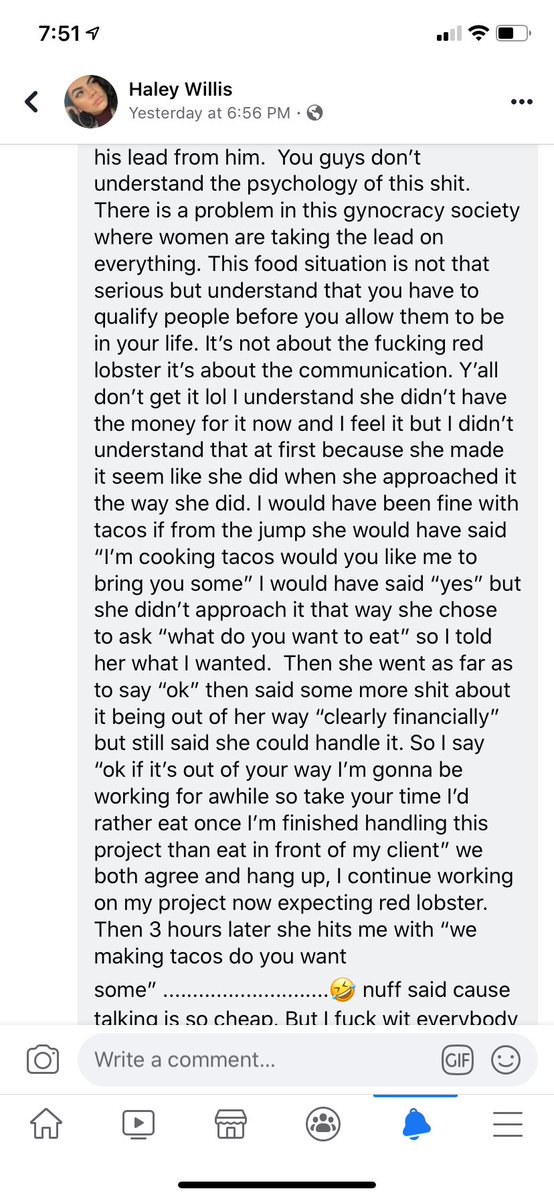 The post has also just become a big Twitter phenomenon as people figured out why "Red Lobster" was trending:
All this over Red Lobster…a king? 🙄 https://t.co/qioo3NVk8i

— the main ingredient 💁🏾‍♀️ (@TheKitchenista) January 6, 2020
"I ate Red Lobster 4xs a week last year…you can't afford a man of my caliber" pic.twitter.com/KWbxGHjFy5

— Shea Peters (@iamsheabutta) January 6, 2020
"man of my caliber" sir…it's red lobster, not Nobu. https://t.co/CcGpZeQjDF

— alana 💘 (@alanaauston) January 6, 2020
Shorty was in the process of googling tuna fish on Ritz crackers for this sucka and he wanted RED LOBSTER???????? And wanted HER to pay for it????? Ladies, I apologize on behalf of this half a man #Beneath pic.twitter.com/c0LtDfWeXu

— ⚓SWOLEdell FLEXem ⚓ (@Cliggaveli) January 6, 2020
Him: I want Red Lobster

Me: you got any Red Lobster money pic.twitter.com/8l6W1HLgKI

— DKT (@darleneturner53) January 6, 2020
Idk if it's bc I'm high as hell right now but omg I am just beside myself lmfaoooooooo he is so madddd he can't afford red lobster by himself lmfao he been counting on this meal all day starving with his broke ass https://t.co/i94oJQAwxd

— Blending Queen (@SkyeAsiyanbi) January 6, 2020
"Man of my caliber…" -A bum whose mad he couldn't get some red lobster. pic.twitter.com/VVrhbIozPG

— Alliyah D. (@alliyahbdailey) January 6, 2020
Wherever this guy is, I do hope he is seeing at least a few of these responses. It's not how much lobster you eat that makes the man. It's how well you handle having no lobster because you can't mooch off your girlfriend anymore.
More absolutely insane ex texts: